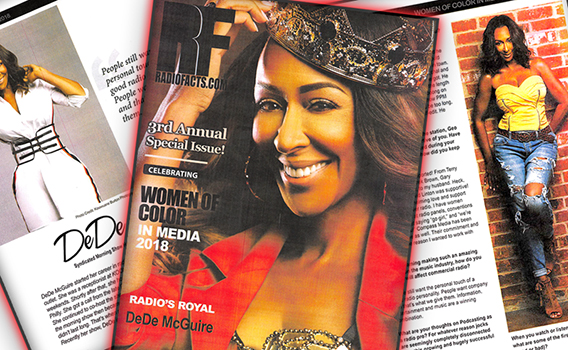 DeDe featured in Annual RadioFacts.com 2018 Women of Color In Media Issue
RadioFacts.com celebrates it's third annual Women of Color In Media 2018 special issue featuring our very own, DeDe McGuire. The cover features DeDe in her striking red beaded dress and lavish crown with the headline "Radio's Royal DeDe McGuire."
"People still want the personal touch of a good radio personality. People want company and that's what we give them," quotes DeDe McGuire, host of "DeDe In The Morning" now syndicated by Compass Media Networks.
Look for more information on RadioFacts.com new micro site Women Of Color In Media.
Learn more about DeDe In The Morning | DeDe McGuire Here.