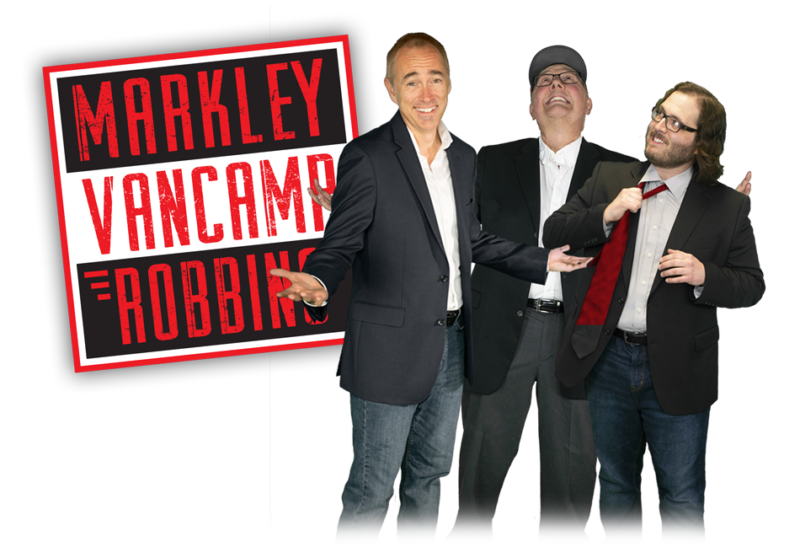 | | |
| --- | --- |
| | Surging Audience Nationwide! |
| | |
| --- | --- |
| | Proven Ratings Performers! |
| | |
| --- | --- |
| | Delivers in PPM and Diary! |
At Compass Media Networks, we invest for the future, for our industry, and for our beloved affiliates.
This is why we put our money where our mouth is – doing the hard work to source, develop, and market our industry's next generation of talent. MARKLEY, VAN CAMP & ROBBINS is an example of this credo.
These entertaining broadcasters span three generations — Jamie Markley, David van Camp and Scott Robbins intelligently discuss the news topics of the day, in a compelling, humorous 3-hour daily news-talk show.
Benchmark segments include Nimrods in the News (Jamie reports unusual and bizarre stories) and The Friday Five (top 5 theme songs of the week, caller-interactive).
Launched into national syndication less than three-years ago, MVR now boasts 82 affiliates with strong ratings performance in all size markets (diary and PPM) and all time-zones.
— No outside barter or cash fees. —
STATIONS LOVE MVR!
"Markley, Van Camp and Robbins–current, resonating and above all, entertaining. I wish more shows were this fun."
— Bruce Collins, KXL-FM/Portland, OR, Alpha Media
"MVR is one of my favorite shows. I enjoy listening to them just as much as my listeners enjoy them. I'm thrilled to have MVR represent my station."
— Keith Memoly, WDBO-FM/Orlando, FL, Cox Media Group
"MVR is a 'must-have' for news/talk stations that intend to be on the air five years from now."
—Mike Dorwart, SVPP, KASI/Ames, IA, iHeartMedia
"Timely, topical and a touch of irreverence. These guys are the smart weapon in your arsenal against tired talk radio!"
— Rick Van Cise, 570KVI/Seattle, WA, Sinclair Broadcast Group
"MVR has been a great program for us to break up the monotony that often comes with news/talk programming. Many listeners, myself included, report constant laughter thanks to this trio!"
— Ashley Schamerhorn, WIQO-FM/Roanoke-Lynchburg, VA, 3 Daughters Media
"The next generation of news/talk radio. Compelling. Funny. Real."
— Bill Brady, President, KFNX/Phoenix, AZ
"MVR is my personal, don't-miss show Monday-Friday. It's the next generation savior for AM radio."
— Randy Hopper, KFIZ/Fond du Lac, WI, Mountain Dog Media Inc
"When we launched KOKC as 'Talk Radio's New Generation,' MVR was a no brainer. They're topical, entertaining, and just what talk radio needs to bring in the next generation of talk radio consumers."
— Kevin Christopher, KOKC/Oklahoma City, OK, Tyler Media
LISTEN TO THE DEMO
MVR DEMO

Markley, van Camp and Robbins

11:13
RATINGS SUCCESS