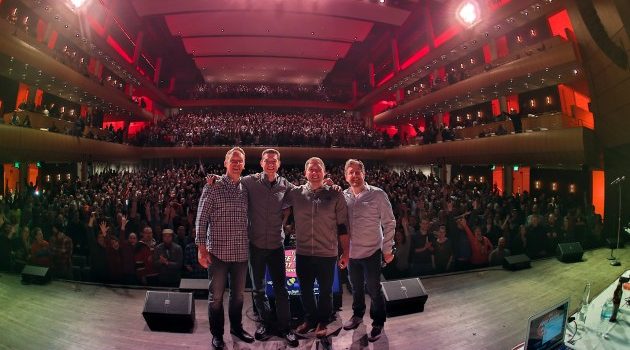 Free Beer and Hot Wings WGRD "Live At Night" sells out, draws 2,300 listeners
Compass Media Networks nationally syndicated Free Beer and Hot Wings Show once again hosted their Live at Night show on Saturday, April 2nd at DeVos Performance Hall in Grand Rapids, MI to a SOLD OUT crowd of 2,300 paying spectators. The show, which was off the radio and completely uncensored, took elements from the daily radio show, mixed in interactive video elements, crowd participation and special guests for a truly unique experience.
The crowd was treated to a variety of segments including The Bald Truth, where spectators in attendance were asked ten rapid-fire questions, leading to two bald spots for one of them! The improv segment Gimme Back My Son! left everyone laughing, and some show members with nearly no voice! The evening ended with what might be a new favorite segment, Hey! What's in Your Mouth? where audience members were blindfolded and then had to guess what object had just been placed in their mouths.
This was Free Beer and Hot Wings' seventh Live at Night show to date, with shows scheduled for Flint, MI, Portland, ME and Nashville, TN in the coming months. More Pictures
Photo by Terry Johnston