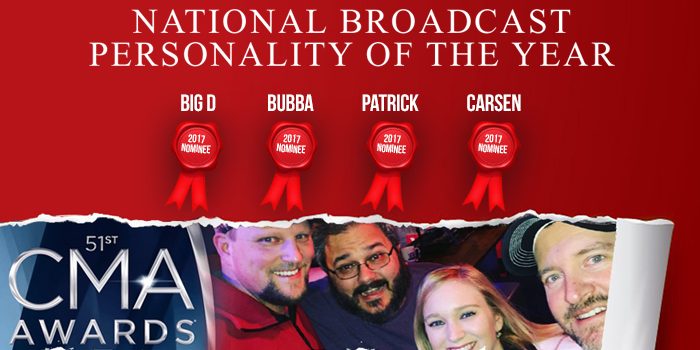 CMA nominates Big D, Bubba, Patrick and Carsen for 2017 National Broadcast Personality of the Year
On Labor Day, Big D and Bubba tweeted "#LaborDay SURPRISE! Did NOT know this was coming! #WowWowWow" along with various happy emojis to express their excitement and gratitude for being nominated National Broadcast Personality of the Year by the Country Music Association.
In 2015, Big D & Bubba won the CMA award for National Personality of the Year adding to their nominations for 2002, 2007, 2011, 2014 and 2016. Carsen, who receives her 2nd nomination after having been on the air with SilverFish Media's midday show Country with Carsen, also syndicated by Compass Media Networks.  
This marks three nominations in three years after Big D, Bubba and producer, Patrick Thomas departed iHeartMedia owned, Premiere Networks to launch Silverfish Media and join Compass Media Networks in a multi-year contract for syndication.  The CMA Awards are broadcast live on ABC November 8 8|7c. 
[Full List of Nominees] | About Big D & Bubba | About Country with Carsen
#LaborDay SURPRISE!
Did NOT know this was coming! ???#WowWowWow ?
Thanks @CountryMusic https://t.co/c0ohnPkmT7 pic.twitter.com/WnHG0o9MEA

— Big D and Bubba (@bigdandbubba) September 4, 2017