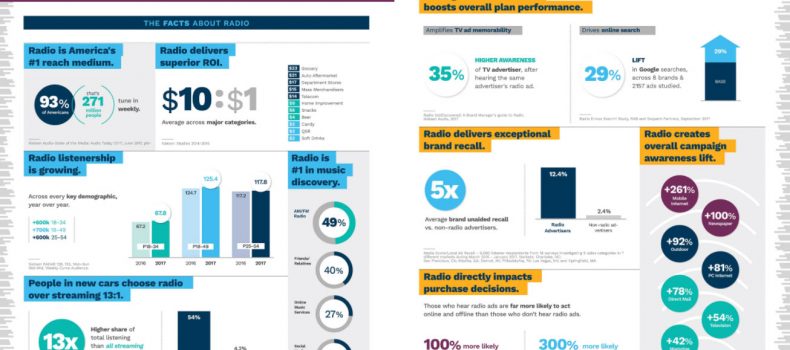 Entercom to Advertising Agencies: Radio is "The Sound Solution"
The Sound Solution: Why Radio is the Key to ROI and Reach Advertisers Need Now.
In a recent sponsored-content AdAge piece, December 4, 2017 issue, CEO of Entercom, David Field publishes a Q&A to the advertising community in hopes of brightening the eyes of media buyers everywhere who traditionally have ducked away from radio, in part. Field's no nonsense approach boasts pro-radio statements such as "simply put, you can reach more people and achieve better results for less money using radio than any other medium."
The paid content article provides an extensive info-graphic with impressive data provided by the usual radio data providers: Nielsen Audio, Edison Research, RAB and MediaScore. Perhaps the most impressive graph with data provided by Media Score/Local Ad Recall "Radio delivers exceptional brand recall" stating that average brand unaided recall is 5x more likely with radio advertisers (12.4%) over non-radio advertisers (2.4%). And the most interesting stat "Amplifying TV ad memorability" sited from Radio (re)Discovered: A Brand Manager's guide to Radio from Nielsen Audio, 2017 reports that 35% Higher Awareness is achieved for the TV advertiser after hearing the same advertiser's ad on radio.
The Entercom CEO waists no time after his CBS station merger acquisition (reported by Billboard, November 17, 2017) to let advertising agencies and the radio industry know that "only radio is live, local and personal with massive scale." Kudos to Field for cheering-on the radio industry.