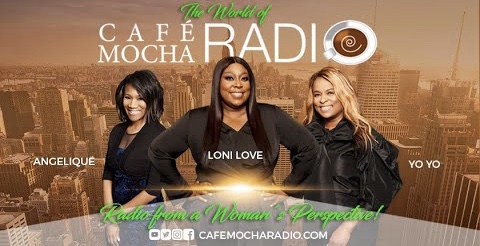 COMPASS MEDIA NETWORKS SERVES UP CAFÉ MOCHA FOR SYNDICATION SERVICES
Cafe Mocha and Compass Media Networks are expanding their relationship with Compass Media Networks taking over affiliation and marketing responsibilities in addition to advertising sales, effective immediately.
This two hour weekend show is hosted by Emmy Award winner comedienne, actress and co-host of 'The REAL' daytime show Loni Love, member of Love & Hip Hop Hollywood "Grammy" nominated artist YoYo and veteran broadcaster and producer Angelique Perrin. Café Mocha has been a staple program on the biggest Urban AC stations in the country for the last decade. Affiliates include WBLS New York, WSRB Chicago, KZMJ Dallas, WAMJ Atlanta, WHUR Washington DC, WBAV Charlotte and dozens more.
Miles Ahead Broadcasting CEO, Café Mocha Creator & Executive Producer, Sheila Eldridge comments "All of us at Café Mocha are excited to expand our partnership with Compass Media Networks to handle affiliate relations for the Café Mocha radio show. Over the past five years the Compass Media Networks team has helped us to firmly establish our platform of 'radio from a woman's perspective', that speaks to 'women of color' from 25 to 54 that represent a combined buying power of more than $1.2 trillion."
To find out how to bring Café Mocha to your market contact Liane Sousa at Compass Media Networks (914) 310-3983 or email lsousa@compassmedianetworks.com .
About Café Mocha™ Radio:
Gracie Award winning Café Mocha show is the brainchild of award-winning media veteran Sheila Eldridge. Created by and for Women of Color is syndicated nationally and on Sirius/XM Channel 141, Café Mocha is heard in major markets of New York, Chicago, Atlanta, Dallas and Washington, D.C just to name a few.  The show airs weekends and is co-hosted by Emmy Award winner comedienne/television host Loni Love (Fox's "The Real"), hip-hop icon YoYo, and broadcast veteran Angelique Perrin. This high-energy, two-hour show features the latest in urban music, lively chats from an unabashedly women's perspective, no-holds barred advice and exclusive interviews with top performers, celebrities, politicians and civic leaders. Café Mocha, represented by Compass Media Networks, is the only national show that speaks directly to African American women, ages 25 to 54, who represent a combined buying power of more than $1.2 trillion. To learn more about Café Mocha Radio, visit www.cafemocharadio.com Twitter, Instagram @cafemocharadio; YouTube: Cafemocharadio; and on Facebook www.facebook.com/cafemocharadio.