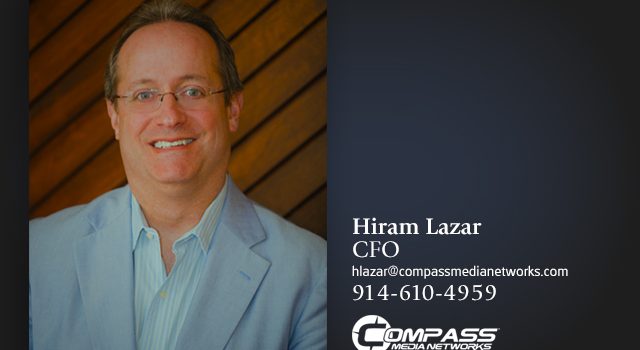 Hiram Lazar joins Compass Media Networks as Chief Financial Officer
Hiram Lazar joins COMPASS MEDIA NETWORKS as Chief Financial Officer. Mr. Lazar will be based out of the Company's Rye, New York headquarters.
"There are many financial executives that can balance a checkbook but very few who appreciate the fundamentals of running a business," said Peter Kosann, CEO/Founder of Compass Media Networks. "I have known Hiram for over 15 years and truly appreciate the fact that he is an executive of talent and integrity, who knows that supporting the customer and the employees are paramount."
"It is an honor to join this winning team," said Mr. Lazar. " I look forward to working with my new colleagues as we enter this exciting future together."
About  Hiram Lazar:
Mr. Lazar is a Certified Public Accountant with an undergraduate degree in accounting from Hofstra University and a Masters in Business Administration in Finance from the Stern School of Business at New York University. For most of the past two decades, Mr. Lazar has held senior positions at leading radio networks, including CFO of Dial Global from 2001–2011 and CFO and CAO at Westwood One from 2011-2014. Most recently Mr. Lazar served as CFO for Monroe College.
Mr. Lazar may be reached at 914-610-4959 and hlazar@compassmedianetworks.com.