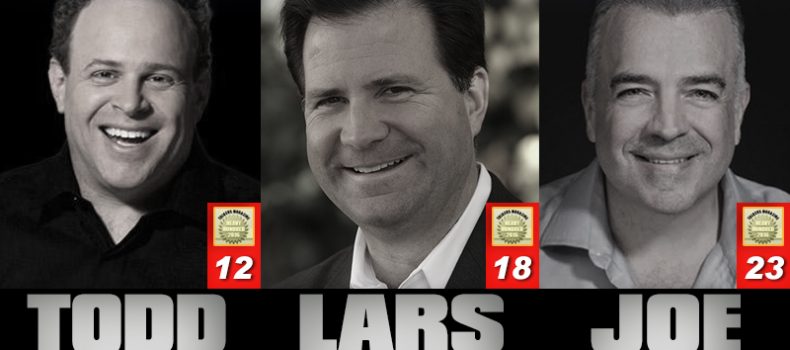 Schnitt, Larson, and Pags honored with 2016 TALKERS Heavy Hundred
The radio industry's only news/talk-centered trade publication, TALKERS, releases it's famed "HEAVY HUNDRED" for another year. This year, Compass Media Network proudly recognizes Todd Schnitt #12, Lars Larson #18, and Joe Pags #23 for making the Top 25 of the elite list of America's top news-talk talent. Read the entire list HERE
Todd Schnitt is a conservative talk radio host based in New York City. He currently hosts The Schnitt Show, the afternoon drive time show of Tampa radio station Newsradio 970 WFLA that is nationally syndicated and co-hosts a morning drive talk show on WOR New York with Len Berman. Schnitt describes himself as a "fiercely independent conservative with libertarian influence." The show consists of news, political commentary, lifestyle and pop-culture with sound bites and parody material. From periscope to podcasting to the coveted "Schnitt List", Todd Schnitt is never far away from his listeners.
The Lars Larson Show is heard across a growing network of over 100 affiliates. Broadcasting from the KXL studios in Portland, Oregon, Lars is an award winning news-journalist. Larson's daily local KXL show also airs regionally on over 20 stations throughout Oregon and Washington State. Bob Proffitt, Alpha Media President/CEO  states, "Lars is a huge part of the culture in Portland and whether you agree with his viewpoint or not, he's always entertaining."
The Joe Pags Show is heard from 5-8pm Central from Flagship WOAI in San Antonio and broadcast on 50 affiliate stations nationwide. Pags has won multiple Associated Press awards for excellence. Joe "Pags" Pagliarulo blazes a new trail back to what radio is supposed to be. He's not just another host, Pags believes in his role as an entertainer, educator, debater and companion to and for his listeners.