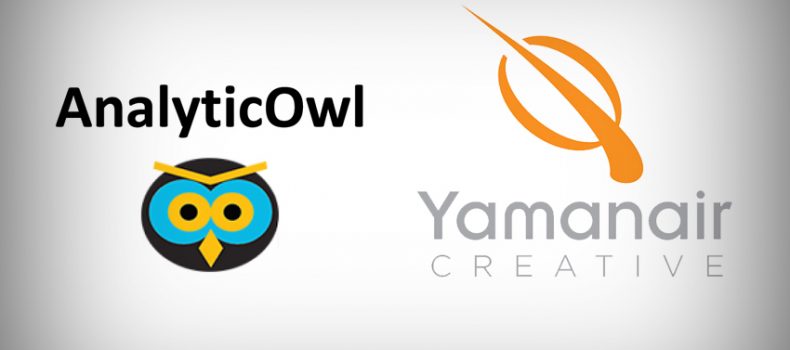 AnalyticOwl and Yamanair Announce Critical Integration
New York, NY – FEBRUARY 14 2018 – AnalyticOwl, big data analytics and attribution for TV and Radio advertisers syncing offline advertising to online web and search data, has announced an
industry-first integration with Yamanair Creative's services Cash-by-Creative and SPECbyte. David Ballinger, founder of AnalyticOwl, calls the integration a no-brainer. "The integration allows media sales reps to instantly link their Yamanair account to their AnalyticOwl account. Our platform centers around optimizing the advertiser's creative, so the integration is a nobrainer – especially given we have many of the same media company clients and therefore many of the same users across multiple markets. In the new data-driven broadcast space one thing hasn't changed – the importance of great creative – the integration helps us to optimize the radio seller's workflow." adds Ballinger.
"AnalyticOwl is the leader in broadcast analytics and attribution technology. I am excited to team up with David and his team. This is just Phase One of our integration. We are planning to add more features which will make the integration of our services a match made in audio and video analytics heaven." adds Yaman Coskun, CEO of Yamanair Creative which is owned by Compass Media Networks. Yamanair's services, Cash-by-Creative and SPECbyte, two of the most powerful local revenue tools, are used by broadcasters in over 400 markets since 2007. "Now, we will offer great creative with data to prove its greatness. And, that is the new definition of a great creative" adds, Yaman Coskun.
About Yamanair: Owned by Compass Media Networks, Yamananair Creative is a fully loaded, D.C. based creative shop serving radio and television groups across North America and Canada such as Entercom, Saga, Alpha Media, Radio One, Corus, Connoisseur and more providing business development tools and strategic creative for key accounts.
About AnalyticOwl: AnalyticOwl provides broadcast analytics and attribution to media companies with thousands of advertisers and ad agencies linked to the platform. AnalyticOwl radio clients include: Entercom, Townsquare, iHeart, Univision, Beasley and Bonneville.
CONTACT:
Joseph Principe at AnalyticOwl, a FISCOWL company.
joseph@analyticowl.com
844-347-2695
Yaman Coskun at Yamanair Creative, a COMPASS MEDIA NETWORKS company.
yaman@yamanair.com
202-888-7776