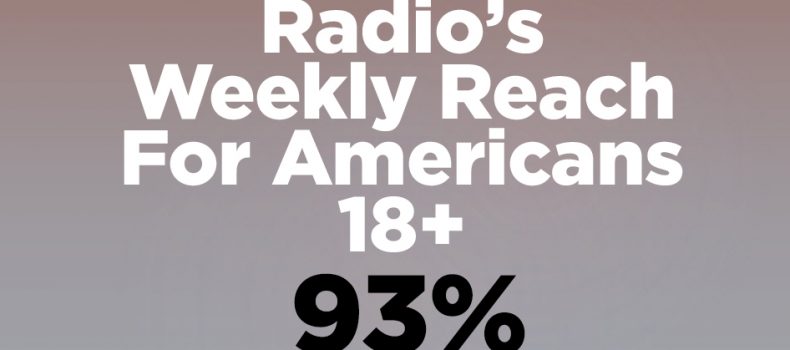 Radio's weekly reach for Americans 18+ – 93%.
[Article Share -TomTaylorNow, April 5, 2018]   Radio's weekly reach for Americans 18+ – 93%.  That's an impressive number, but then Nielsen switches in its 2018 Audio Today research report to monthly (not weekly) reach for some discrete demos.
It says "Radio has the largest reach with Generation X, those aged 35-54, with 80.5 million tuning in during an average month, or 97% of the Gen X population." The monthly reach for Millennials (18-34s) is 95%. And the stat for Baby Boomers age 55-64 is 98%. Nielsen explains that "monthly reach metrics are widely used in assessing the digital media world," so it's giving us lots of that setting on the microscope.
Nielsen acquired Arbitron's network radio business, too, and it calculates that – back to weekly reach – "94% of all general radio listeners tune to a network-affiliated station" in an average week. (It's lumping together all forms of network content.)
And Nielsen's new "2018 Audio Today" report says "It's impossible to ignore podcasts…over 30 million Americans watch, listen or download a podcast every month." Listenership "is growing, and smartphones are driving the surge in podcast popularity."
Nielsen should post the latest Audio Today update on its website here. It's handy stuff for sellers and programmers.
Radio has the largest reach with Generation X, those aged 35-54

"94% of all general radio listeners tune to a network-affiliated station" in an average week

"AM/FM radio is the 'blue-blazer' of the media universe," says Nielsen's 2018 Audio Today 

AM/FM "continues to reach more people 18+ each week than any other medium in the U.S., at 228.5 million 
By which Nielsen Audio Managing Director Brad Kelly means that radio keeps hanging in, as a perennial. He opens this yearly study optimistically saying "Who would have believed 100 years after its debut [that] AM/FM radio would continue to top the charts as the medium that reaches more consumers each week than any other?" Of course Nielsen would rather talk about broadcast radio's reach than its time-spent listening, but the reach numbers are big. AM/FM "continues to reach more people 18+ each week than any other medium in the U.S., at 228.5 million. consumers." Kelly compares that to the 216.5 million for TV, including "live, DVR and time-shifted." Working down the chart, the weekly 18+ reach for "app/web on a smartphone" is 203.8 million, and 127.6 million for video on a smartphone. More from Brad – "Looking at the audio landscape, broadcast radio's weekly reach of 228.5 million also outpaces the 68.5 million for streaming audio, 35.7 million using satellite radio and 21.9 million consuming podcasts."