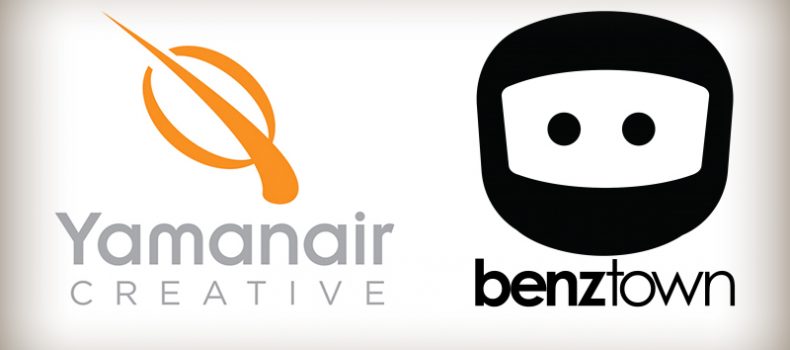 Yamanair Creative's World-Class Spec Spot Libraries and Custom Campaigns Now Powered by Benztown
WASHINGTON, DC, APRIL 5, 2018 — Yamanair, a Compass Media Networks Company, is pleased to announce that it has hired Benztown, a global leader in radio imaging, voiceover,  programming and jingles, to provide production elements for Yamanair's exclusive services Cash by Creative and SPECbyte. Yamanair provides custom creative to stations and their sales representatives in over 400 markets. In the newly-inked deal, Benztown will power Yamanair's services which deliver instantly customizable spots in less than three hours including digital display ads and pre-roll videos. Both services come fully equipped with management tracking tools providing metrics on usage and revenue.
The custom spot production services and spec ad libraries created by Yamanair enable AEs to focus on selling and provide the most effective ad creative to their clients. Yaman Coskun, Chief Executive Officer and Chief Creative Officer, Yamanair Creative, said: "Given the constantly growing domestic and international presence of our services for radio, this engagement with Benztown is a match made in creative heaven. Our clients will instantly reap the benefits from this arrangement as we triple our talent pool and up our production game. Our primary mission to assist our affiliates' local revenue growth efforts is now upgraded to a whole new level."
Dave "Chachi" Denes, President, Benztown, said: "We are incredibly proud to work alongside Yaman and his team to enhance the incredible quality of the Yamanair Creative libraries and spots through our industry-leading voiceover talent, production and jingle services. I am really impressed with what Yamanair brings to the table for stations, AE's and advertisers. This is a very cool service."
For more information or to hear Yamanair's libraries and custom spots for radio, contact Nancy Abramson at Compass Media Networks at  or (914) 708-1451.
About Yamanair
Owned by Compass Media Networks, Yamanair Creative is a fully loaded, D.C. based creative shop serving radio and television groups across North America and Canada such as Entercom, Saga, Alpha Media, Radio One, Corus, Connoisseur and more providing business development tools and strategic creative for key accounts.
About Benztown
Benztown is a leading international radio imaging, production library, programming, jingles and voiceover services company with over 2,300 affiliations on six different continents. In 2017, Benztown was named to the prestigious Inc. 5000 by Inc. magazine for the fifth consecutive year as one of America's Fastest Growing Privately Held Companies. With studios in Los Angeles, New York, and Stuttgart, Benztown offers the highest quality audio imaging workparts for 23 libraries across 14 music and spoken word formats including AC, Hot AC, CHR, Country, Urban, Rhythmic, Classic Hits, Rock, News/Talk, Sports, and JACK. Benztown's proprietary web-based imaging solution, Benztown Branding, is used daily by nearly 1,200 broadcast radio stations and digital services worldwide. Benztown provides custom VO and imaging across all formats, including commercial VO and copywriting. Benztown Radio Networks produces, markets and distributes high quality programming and services to radio stations around the world, including: The Todd-N-Tyler Radio Empire, Hot Mix, Sunday Night Slow Jams with R Dub!, Vipology, Mr. Master, Incentive Sales Rewards, BMG Production Music, VS3, Tough Love With Siri, Ask Alexa and Flashback. For more information, visit www.benztown.com or contact Masa Patterson  or (818) 842-4600.
PRESS RELEASE CONTACT:
Lisa Dollinger
Dollinger Strategic Communication
(512) 633-4084
EMAIL