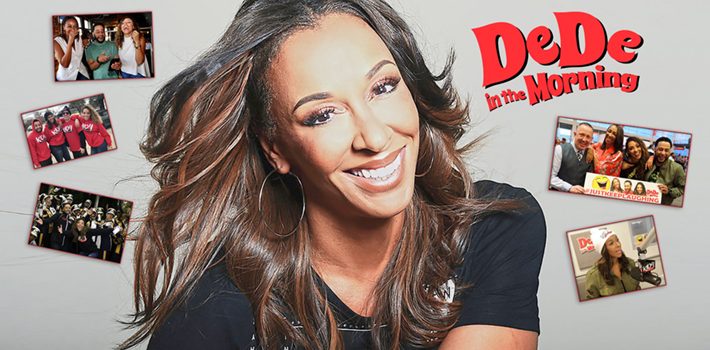 DeDe In the Morning to enter national syndication in July 2018
Service Broadcasting (owner of K104 FM in Dallas) and DeDe McGuire (host of DeDe in the Morning) are pleased to announce the selection of Compass Media Networks to manage the national syndication of DeDe in the Morning effective immediately, and in anticipation of a July national launch.
"DeDe McGuire is an incredible talent and we are thrilled to support the rollout of DeDe in the Morning nationally," said Hymen Childs, Owner of Service Broadcasting."
DeDe in the Morning will continue to broadcast from the studios of K104 FM in Dallas, and K104 FM shall now serve as flagship for the network.
"It is an absolute honor to enter national syndication," said DeDe McGuire. "With humility, excitement and pride, all of us at DeDe in the Morning are 100% committed to continuing to put in all the hard work to make our program a success for our prospective affiliates and national sponsors."
For the past five years, DeDe McGuire has served as host of DeDe in the Morning – during this period K104 FM has emerged as a dominant ratings winner in all key demographics. Ms. McGuire is no stranger to national syndication, having served as co-host of The Doug Banks Show for over 10 years.
"DeDe is a proven PPM winner!" said Geo Cook, Director of Operations & Brand Manager for K104 FM, DeDe in the Morning and Service Broadcasting. "The entire team – DeDe, Lady Jade, Michael Shawn and producer Gary – are ready to make your listeners laugh and have fun every morning."
DeDe in the Morning will be available to affiliates beginning July 16th, 5am – 10 am ET, Monday – Friday with a Weekend 4 Hour "Best Of" available.
***********************************
ABOUT DEDE IN THE MORNING:
From the studios of the world famous K104 in Dallas, DeDe in the Morning is broadcast 6am – 10 am CT, Monday – Friday; DeDe McGuire is the host; Lady Jade and Michael Shawn, serve as co-hosts. Gary Saunders serves as producer.
ABOUT DEDE MCGUIRE:
DeDe McGuire is a proven winner – having served as host of DeDe in the Morning since 2013. During this time, K104 FM in Dallas has become a dominant ratings force – evidenced by recent Nielsen data ranking K104 [#1 in all key demographic vs. direct format competitors and #2 W18-34, #2 W18-49 and #2 W25-54 vs. all Dallas radio stations; source Nielsen February 2018]. Prior to hosting her own show on K104, DeDe McGuire was co-host of the nationally syndicated radio program, "The Doug Banks Show." DeDe has appeared on CNN, FOX, Oxygen and BET, and has interviewed world leaders from President Obama to Hillary Clinton, and celebrities such as Jay Z and Beyoncé. She is a philanthropist, community activist, mentor, volunteer, and media star. She has been recognized within her industry and community. Some of her accolades include the International Black Broadcasters (IBBA) Lifetime Achievement Award (2013); winner of The Elite News Communications Award (2014); Shades of Success Honoree (2014); Dallas Local Love Pioneer Award (2017), and she was named one of the Top 25 Women in Dallas by Rolling Out Magazine. Dede enjoys spending time with her husband Chris Allen and their latest family addition, Little Dak Prescott Allen.