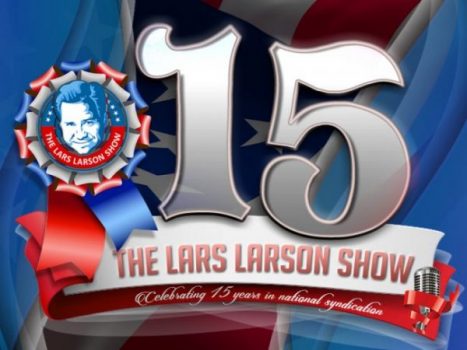 Lars Larson celebrates 15 years in national syndication
Wednesday, August 15, 2018 marks 15 years since the National Syndication of the Lars Larson Show. That's the day I took over what had been the Laura Ingraham show on Westwood One.
When Westwood dropped the show after 6 years of syndication, Peter Kosann (who left his position as CEO of Westwood One two years earlier) was there to rescue me with his brand spanking new Compass Media Networks. Since then, Peter and his team have grown our affiliates and advertisers to make the Lars Larson show more successful than ever.
I've done the show live from NYC, DC & Jerusalem among others, as well as the Hoover Institution at Stanford University and literally dozens of towns big and small across the country. Last November, the show was broadcast live from the East Room of the White House with President Donald J. Trump as the star guest.
Compass has agreed to carry my show through at least 2023 but as far as I'm concerned, I'll keep talking for my friend Peter Kosann till he pulls the mic from my cold, dead hands 😉
Meanwhile, my show on the Radio Northwest Network marks 18 years in regional syndication throughout Oregon, Washington and Idaho on 24 stations, including its flagship, FM News 101 KXL.
More about The Lars Larson Show | www.larslarson.com