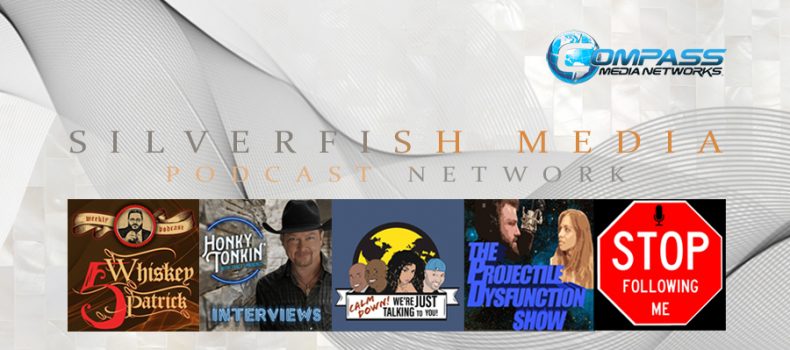 Silverfish Media and Compass Media Networks launching five new podcasts.
Silverfish Media president Patrick Thomas announced the company's launch of five new podcasts in collaboration with Compass Media Networks. Thomas will host one of the podcasts, Five Whiskey Patrick, which will focus on interviews and conversations with people he finds interesting. "Honestly, I just wanted to do my own podcast. It's something I've been thinking about for a while. When Carsen mentioned that she also wanted to do her own podcast, it sparked an idea that maybe we should expand our content creation into that realm."
Silverfish media director of programming Carsen Humphreville will host Stop Following Me featuring longtime friend and former radio personality Tracy Wilde. Tracy Lawrence, who hosts a weekly radio show produced by Silverfish and syndicated by Compass, will also create podcast versions of his interviews with fellow country artists. The Honky Tonkin' with Tracy Lawrence: The Interviews podcast will be uploaded about once a month.
In addition, the companies are also starting two podcasts with casts who are entirely new to the Silverfish/Compass family. The Projectile Dysfunction Show will feature Discover Channel host Zeke Stout and comedian and personality Vanessa Boyer. The duo will talk about guns, hunting, and anything else they find interesting while interviewing a wide range of guests. 
Calm down! We are just talking to you! is hosted by former Urban radio personality Paul Douglas and his friends Kina, CT, and Marcus. Their podcast feels like a fresh take on what a personality driven radio show should sound like.
"We're excited about these new projects," adds Thomas. "We are in the content creation business, and now were creating a lot more content!" 
For more information, please email Patrick@silverfishmedia.com
Learn more about these new podcasts:
HONKY TONKIN' WITH TRACY LAWRENCE INTERVIEWS
CALM DOWN! WE ARE JUST TALKING TO YOU