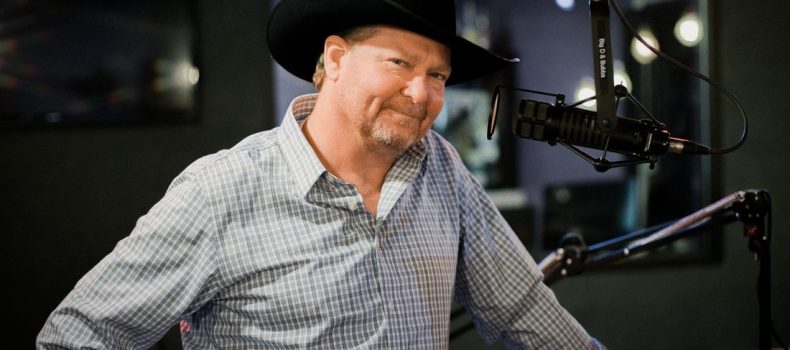 Honky Tonkin's Tracy Lawrence Garners 2nd ACM Nomination
Nashville, TN (February 8, 2019) — With a career that spans over 25 years of recording and touring, Tracy Lawrence has demonstrated that adding syndicated radio show host to his résumé has also added to the list of the legendary artist's many accomplishments. Lawrence is being recognized by The Academy of Country Music for his exemplary work on the weekly show "Honky Tonkin' with Tracy Lawrence" with his second nomination for "National On-Air Personality of the Year."
"I am so honored by this nomination. When I first started hosting 'Honky Tonkin'' I really just wanted it to be something that all of my friends would feel comfortable being a part of, like having a conversation backstage or on the tour bus. I wanted to give fans an inside look at the artists who created the music of the 90's, which to me, is the best era of country music, not just because I was a part of it, but because so many great songs and entertainers came out of that time period," says Lawrence.
Produced by Patrick Thomas of Silverfish Media and distributed by Compass Media Networks, "Honky Tonkin" is a bit different from other syndicated shows that focus on current trends in country music. The audience listens in to fun, thoughtful, and intimate conversations between Tracy and his friends and contemporaries from the late 80s, 90s, and the early 2000s, as they discuss what many consider the most celebrated time for country music. Lawrence also recently began a Podcast version of the show called "Honky Tonkin' With Tracy Lawrence – The Interviews" which can be heard HERE.
"We just started our fifth year of Honky Tonkin' and I am so proud of how great this show sounds each week. Sure, the music is awesome, but Tracy is an amazing host. He loves country music and he just wants to create an entertaining show and have a lot of fun," says Patrick Thomas, Producer/President, Silverfish Media.
"When I heard Honky Tonkin' was launching, I wanted to be on board right away. Z-Country 94.7 was the first affiliate. Glad we were. Listeners in Z-Nation tell us how great it is that we haven't 'forgotten about the roots of Country.' Keep it up with the great music and guests, Tracy!" Randy Roadz, Program Director/Z-Country 94.7/Chelan/Douglas Counties, WA
"FUN! That's what 'Honky Tonkin' with Tracy Lawrence' is all about. With great music, legendary guests and memorable stories, Tracy makes you feel special – like he is doing the show only for YOU!" Jonathan Shaffer, Program Director/The Legend, 650 AM WSM/Nashville, TN
"Honky Tonkin' is fun to listen to with good content and great music. Tracy remains a strong country act and sells out every time he plays Baton Rouge!" Brian King, Program Director -100.7 The Tiger WTGE/Baton Rouge, LA
In addition to being credited as an influence among an entire generation of current superstars and rising country artists, Tracy has also positively affected Nashville's homeless community and beyond. His national non-profit 501 ( C ) (3) organization, MISSION:POSSIBLE has amassed more than $500,000 in funding, with the MISSION:POSSIBLE Turkey Fry and Concert, and has provided more than 75,000 meals for the homeless and food insecure in Nashville, TN, Dallas, TX and Louisville, KY.
One of country music's truest traditionalists, Tracy Lawrence has sold more than THIRTEEN MILLION albums, has had TWENTY-TWO songs on the Billboard Top 10 charts and EIGHTEEN No. 1 songs. He has garnered numerous CMA and ACM awards and nominations, as well as a Grammy nomination.
***
SPLASH PUBLIC RELATIONS ANNOUNCEMENT: Vanessa Davis | Splash! PR vanessadavis@splashpublicity.com | 615.321.1383