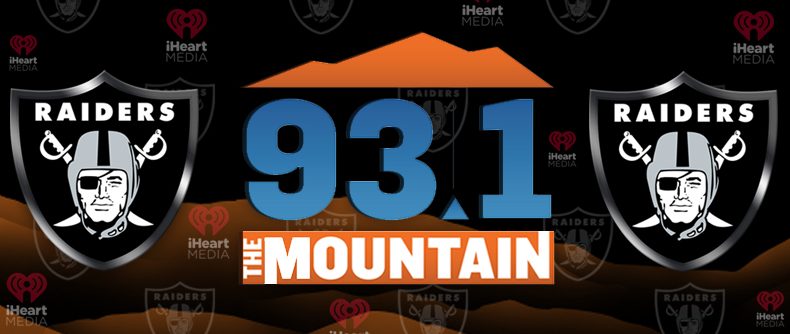 iHeartMedia Las Vegas' 93.1 The Mountain announces broadcast agreement with the Oakland raiders for the 2019 Season
93.1 The Mountain to broadcast pre-season, regular season and post-season games. Coverage begins August 10th – Raiders vs. Los Angeles Rams. 
LAS VEGAS – May 17, 2019 – iHeartMedia Las Vegas' 93.1 The Mountain, World Classic Rock, announced today a broadcast agreement with Compass Media Networks.
As part of the broadcast agreement, 93.1 The Mountain will air all play-by-play radio coverage of the Oakland Raiders for the 2019 season. The Raiders pre-season action kicks off on Saturday, August 10 from the Oakland-Alameda County Coliseum and will feature The Oakland Raiders versus the Los Angeles Rams. In addition, the regular season will begin on September 9 with  Monday Night Football and will broadcast the Oakland Raiders' first match between the Denver Broncos.
The on-air broadcast will continue to be produced by Compass Media Networks and will feature live commentary from Brent Musburger, one of the most prominent voices and personalities in sports broadcasting and the Silver and Black's play-by-play voice in 2018. Musburger will also be joined by former All-Pro tackle Lincoln Kennedy, who handles color analyst duties, and Chris Townsend, who will report from the sidelines.
"We couldn't be more thrilled to partner with a storied franchise like the Raiders," said Glynn Alan, iHeartMedia's Region President for Central California and Nevada. "Having an addition of a pro-football team to our programming combined with commentary from the legendary Brent Musburger will allow our listeners and local fans the opportunity to experience and keep up with each game on real time."
iHeartMedia is the leading media outlet in the Las Vegas market with multiple platforms, including its broadcast stations; live events; data; and its digital businesses and platforms, including mobile, social and its own iHeartRadio, iHeartMedia's free all-in-one digital music, podcasting and live streaming radio service – with more than 2 billion app downloads and 125 million registered users.
# # #
About iHeartMedia Las Vegas
iHeartMedia Las Vegas owns and operates KSNE-FM, KWNR-FM, KYMT-FM and KYMT-HD2, and is part of iHeartMedia. iHeartMedia is the #1 audio company in the United States, reaching nine out of 10 Americans every month – and with its quarter of a billion monthly listeners, has a greater reach than any other media company in the U.S. The company's leadership position in audio extends across multiple platforms including 848 live broadcast stations; its iHeartRadio digital service available across more than 250 platforms and 2,000 devices including smart speakers, smartphones, TVs and gaming consoles; through its influencers; social; branded iconic live music events; and podcasts as the #1 commercial podcast publisher. iHeartMedia also leads the audio industry in analytics and attribution technology for its marketing partners, using data from its massive consumer base. iHeartMedia is a division of iHeartMedia, Inc. (PINK:IHRTQ). Visit iHeartMedia.com for more company information.
CONTACT
Joanna DiNatale
iHeartMedia Las Vegas
Joannadinatale@iheartmedia.com
702-531-4069