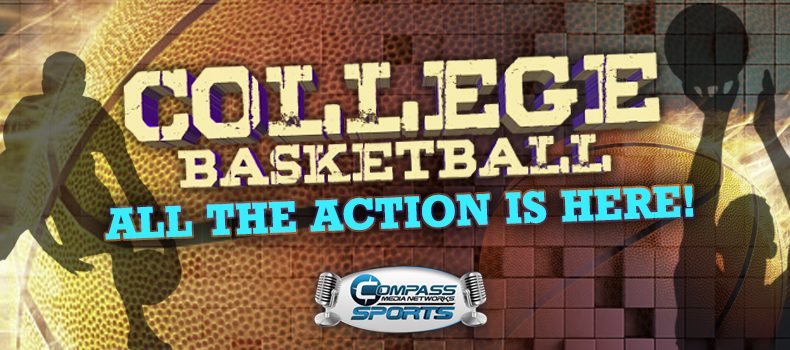 COMPASS MEDIA NETWORKS ANNOUNCES 2020 COLLEGE BASKETBALL SCHEDULE & BROADCAST TALENT
Highlights: Top ranked college games each week including: #17 Kentucky vs. #22 Texas Tech, #19 Virginia vs. #7 Louisville, #5 Ohio State vs. #23 Iowa, #3 Kansas vs. #22 Texas Tech and The Battle of Tobacco Road – North Carolina vs. #2 Duke 
EXCLUSIVE COVERAGE OF THE BIG TEN TOURNAMENT and THE ATLANTIC CONFERENCE TOURNAMENT CHAMPIONSHIP GAME
RETURNING PLAY BY PLAY ANNOUNCERS INCLUDE: GREGG DANIELS, DREW BONTADELLI, AND WAYNE LARRIVEE. BILL ROSINSKI ADDED TO THE BROADCAST COURTSIDE AS GAME ANNOUNCER. ANALYSTS INCLUDE: RICH MAHORN, DOUG GOTTLIEB, AND MIKE WOZNIAK. 
COMPASS MEDIA NETWORKS proudly announces a full slate of top ranked, exclusive, and compelling college basketball broadcasts which tip-off on Sunday, January 12th at 11:45a ET with defending Big Ten Tournament champions, #14 ranked Michigan State Spartans taking on the Purdue Boilermakers. The schedule features schools from the major conferences: ACC, BIG TEN, BIG 12, & SEC.
 "Our 2020 College Basketball schedule continues Compass Media Networks' decade-long reputation of excellence.  The teams, story-lines, and rivalries cultivated and offered year in and year out are incomparable.  We are proud, once again, to offer our affiliates and corporate sponsors the best of College Basketball and look forward to continuing this decade-long distinction." said Michelle Salvatore, General Manager of Sports for Compass Media Networks.
The entire 2020 College Basketball schedule is listed below. Streaming games is permitted on the station's website. Full details may be found at HERE.
 ***********************************
Compass Media Networks presents 2020 College Basketball Season
Compass Media Networks is proud to broadcast these College Basketball games this season…
DATE

OPPONENTS

AIR-TIME

Sunday, January 12th   

Michigan State @ Purdue

11:45a

Thursday, January 16th

Cincinnati @ Memphis

6:45p

Thursday, January 23rd

Michigan State @ Indiana

8:15p

Saturday, January 25th

Kentucky @ Texas Tech

5:45p

Monday, January 27th

Kansas @ Oklahoma State

8:45p

Saturday, February 1st

Michigan State @ Wisconsin

11:45a

Friday, February 7th

Maryland @ Illinois

7:45p

Saturday, February 8th

Virginia @ Louisville

3:45p

Saturday, February 15th

Virginia @ North Carolina

TBA

Thursday, February 20th

Ohio State @ Iowa

6:45p

Saturday, February 22nd

North Carolina @ Louisville

TBA

Tuesday, February 25th

Kentucky @ Texas A&M

6:45p

Thursday, February 27th

Indiana @ Purdue

6:45p

Tuesday, March 3rd

Michigan State @ Penn State

6:45p

Saturday, March 7th

Kansas @ Texas Tech

1:45p

Saturday, March 7th

North Carolina @ Duke

5:45p

Sunday, March 15th

ATLANTIC (A-10)  

TOURNAMENT 

CHAMPIONSHIP GAME

12:45p

March 11-March 15

BIG TEN TOURNAMENT

TBA
*Airtime Starts. All times are Eastern*