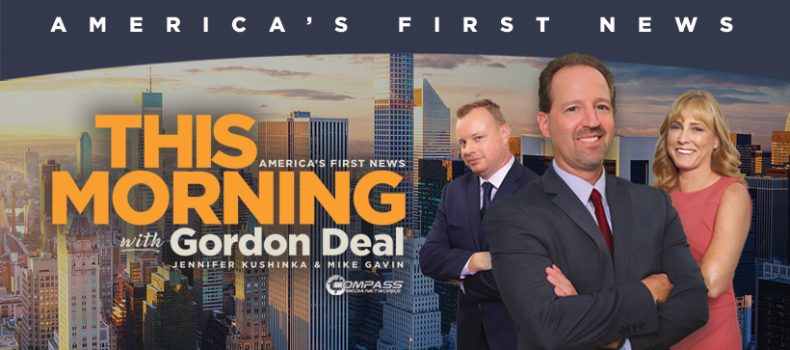 This Morning — America's First News exceeds 300 affiliates and congratulates Gordon Deal on his 15th Anniversary as host
This week, Gordon Deal celebrates 300 affiliates and his 15th anniversary as host of This Morning –America's First News with Gordon Deal.
Gordon Deal states "With a short attention span like mine, it's hard to imagine doing the same thing for 15 minutes, let alone 15 years. There's a lot of pressure and responsibility, especially now with 300 affiliates, but having an exceptional team to work with every day and the support of Compass Media Networks means waking up at 2:30 a.m. can actually be interesting and exhilarating."
This Morning – America's First News is produced and distributed by Compass Media Networks and broadcast daily via 300 news and talk stations in 92 of the top 100 markets and re-broadcast via all major podcast listening platforms including iHeartRadio, Radio.com, and TuneIn. The program reaches over 3 million listeners each month.*
"In the history of our medium, very few shows have achieved over 300 affiliates,' said Peter Kosann, CEO/Founder of Compass Media Networks. "Kudos to everyone at Compass Media Networks for reaching this goal and special thanks to Gordon Deal for his leadership and voice."
"15 years is quite the accomplishment, Gordon. You continue to be the perfect voice to wake up the KTAR early risers with your always interesting perspective on the biggest news stories of the moment. Congratulations and thanks!"  —Ryan Hatch, VP Content & Operations, Bonneville Phoenix
 "Congratulations, Gordon, on your anniversary!  You've been a trusted voice for many years.  We're fortunate to have This Morning as a lead-in to Colorado's Morning News on KOA NewsRadio."  —Greg Foster, Program Director KOA Denver
" Gordon is the perfect, upbeat host, to listen to as I start my day, six days a week. His team does a great job every day at covering stories that matter." — Rob Snyder, Townsquare Media of Lubbock, Abilene & San Angelo
"Gordon is a consummate news anchor and wordsmith.  An amazing national talent who is also amazing to work with."  —Greg Moceri, Moceri Media, LLC
"This Morning is a GREAT lead into our morning show. Gordon and his team provide all the news you need to start the day – plus lighter lifestyle segments that we love!"  —Steve Granato, VP Programming, Renda Broadcasting Corp.
 To find out more about availability in your market contact Robert Blum at rblum@compassmedianetworks.com .