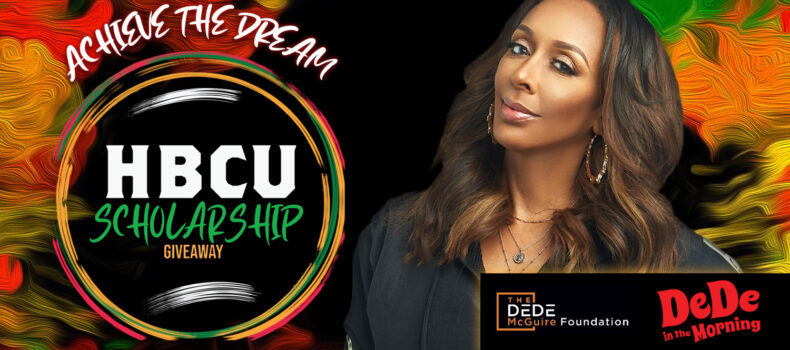 DEDE IN THE MORNING GIVES AWAY SCHOLARSHIPS FOR BLACK HISTORY MONTH
To commemorate Black History Month and to help her listeners achieve their academic and career dreams, DeDe McGuire and her foundation will be awarding five listeners $2,500 tuition scholarships for study at a HBCU institution.  
Throughout the month of February, DeDe will be promoting her "Achieve the Dream" Scholarship on her Dallas based, nationally syndicated radio show "DeDe in the Morning." The scholarship's primary goal is to assist economically-challenged individuals by offering scholarships to a college or university degree from a Historically Black College University (HBCU).
"The Dede McGuire Foundation's mission is to educate minds, increase economic power and build stronger families within our communities," said DeDe McGuire. "With the current climate of the economy, there is an overwhelming need for services. I am so fortunate to be able to help my radio family across the country achieve their educational dreams."
Submissions are due February 21, 2021 and scholarships will be awarded February 28, 2021.   Listeners of her K104 show and of her Compass Media Networks' syndicated show are eligible to apply.
For more information on "DeDe in the Morning" contact Nancy Abramson nabramson@compassmedianetworks.com 
About The DeDe McGuire Foundation:   https://www.dedemcguirefoundation.org/
********
ABOUT DEDE IN THE MORNING:
From SBG Content Factory and the studios of the world famous K104 in Dallas, DeDe in the Morning is broadcast 5am – 10 am EST, Monday – Friday; DeDe McGuire is the Host; Lady Jade is the Lead Co-Host. Super producer Gary Saunders serves as Lead Producer; David Carter serves as Associate Producer. Ben Burnside serves as Creative Services Director. Brand strategist and media maven George "Geo" Cook serves as Head of Content and General Manager.
ABOUT DEDE MCGUIRE:
DeDe McGuire is a proven winner – having served as host of DeDe in the Morning since 2013 on K104 in Dallas. Prior to hosting her own show on K104, DeDe McGuire was co-host of the nationally syndicated radio program, "The Doug Banks Show." DeDe has appeared on CNN, FOX, Oxygen and BET, and has interviewed world leaders from President Obama to Hillary Clinton, and celebrities such as Jay Z and Beyoncé. She is a philanthropist, community activist, mentor, volunteer, and media star. She has been recognized within her industry and community. Some of her accolades include the International Black Broadcasters (IBBA) Lifetime Achievement Award (2013); winner of The Elite News Communications Award (2014) and she was named one of the Top 25 Women in Dallas by Rolling Out Magazine. Dede enjoys spending time with her husband Chris Allen and their latest family addition, Little Dak Prescott Allen.