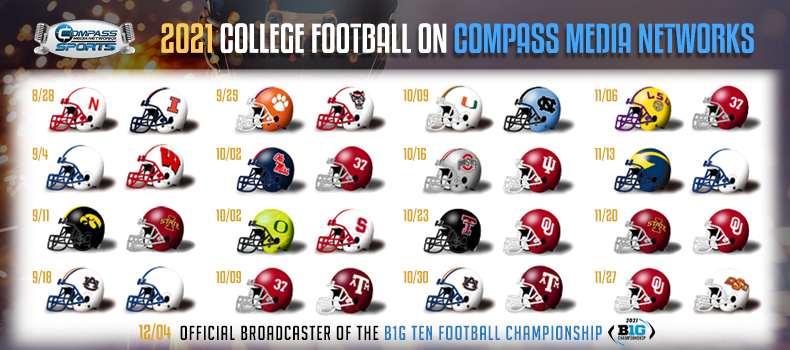 Compass Media Networks Announces 2021 College Football Schedule and Broadcast Talent
HIGHLIGHTS: TOP RANKED COLLEGE TEAMS EACH WEEK INCLUDING: #16 IOWA @ #9 IOWA STATE, #3 CLEMSON @ NC STATE, #22 MIAMI @ #18 NORTH CAROLINA, #1 ALABAMA @ #4 TEXAS A&M, #2 OHIO STATE @ #12 INDIANA, LSU @ #1 ALABAMA and #6 OKLAHOMA @ #20 OKLAHOMA STATE
EXCLUSIVE COVERAGE OF THE BIG TEN CHAMPIONSHIP GAME FROM INDIANAPOLIS, INDIANA
FORMER NFL ALL-PROS TIKI BARBER, STEVE BEUERLEIN and CHAD BROWN WILL BE BACK IN THE BROADCAST BOOTH AS GAME ANALYSTS.
COMPASS MEDIA NETWORKS proudly announces a full slate of top-ranked, exclusive, and compelling college football broadcasts kicking off on Saturday, August 28th at 12:30pm ET with the Nebraska Cornhuskers @ Illinois Fighting Illini. The schedule features top-ranked schools from the Power Five Conferences: ACC, BIG TEN, BIG 12, SEC & PAC-12. Stay-tuned for updates regarding the broadcast times of the TBA games. 
"After a year of uncertainty and challenges, it's great to see a return to normalcy.  College football is a beloved pastime, and we are honored to continue our commitment to offering full productions of one of the greatest sports.  Our schedule of games features the best action in NCAA football available. Once again, our team of talent, producers, and engineers at Compass Media Networks is ready to bring the best of college football straight to our listeners" said Michelle Salvatore, General Manager of Sports for Compass Media Networks.
Additional broadcast highlights are below:
Broadcast Crews

Play-by-Play

Analysts

Studio Hosts

College Football

Gregg Daniels

Bill Rosinski

Jesse Agler

Tiki Barber

Steve Beuerlein

Tony Hill, Chad Brown

Drew Bontadelli

Jeff Biggs

Kevin Figgers
College Football Schedule *AP Rankings noted
| | | |
| --- | --- | --- |
| DATE | TIME (EST) | MATCH-UP |
| Sat-August 28th | 12:30pm | Nebraska @ Illinois |
| Sat-September 4th | 11:30am | Penn State @ Wisconsin |
| Sat-September 11th | 3:00pm | #16 Iowa @ #9 Iowa State |
| Sat-September 18th | 7:00pm | Auburn @ Penn State |
| Sat-September 25th | TBA | #3 Clemson @ NC State |
| Sat-October 2nd | TBA | Ole Miss @ #1 Alabama |
| Sat-October 2nd | TBA | Oregon @ Stanford |
| Sat-October 9th | TBA | #1 Alabama @ #4 Texas A&M |
| Sat-October 16th | TBA | #22 Miami @ #18 North Carolina |
| Sat-October 23rd | TBA | #2 Ohio State @ #12 Indiana |
| Sat-October 30th | TBA | Texas Tech @ #6 Oklahoma |
| Sat-November 6th | TBA | Auburn @ #4 Texas A&M |
| Sat-November 6th | TBA | LSU @ #1 Alabama |
| Sat-November 13th | TBA | Michigan @ Penn State |
| Sat-November 20th | TBA | #9 Iowa State @ Oklahoma |
| Sat-November 27th | TBA | #6 Oklahoma @ #20 Oklahoma State |
| Sat-December 4th | TBA | Big Ten Championship Game |
For more information, contact:
Robert Blum 
Director of Affiliate Sales, News-Talk-Sports
Compass Media Networks
Mobile: 602-571-8740
Office: 914-610-4956
rblum@compassmedianetworks.com