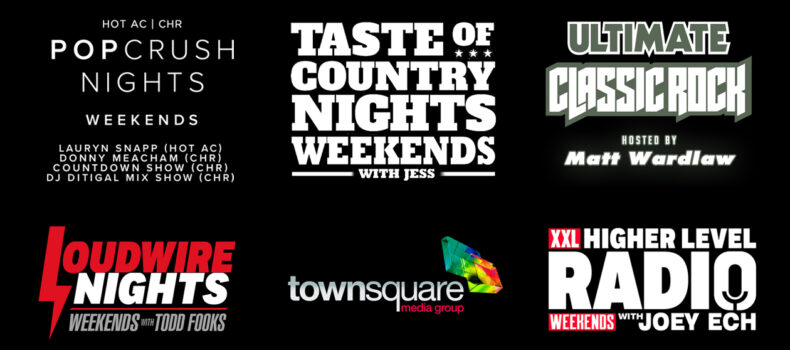 Townsquare Media and Compass Media Networks Announce New Weekend Shows Available For Syndication
Townsquare Media announces six new syndicated weekend shows, comprising 10 new hours of unique programming each, and available immediately for affiliates, available for syndication by Compass Media Networks.
The six new shows are weekend versions of the successful weeknight shows produced by Townsquare Media that are already represented by Compass Media Networks and air on a collective 381 affiliate radio stations around the country: PopCrush Nights (CHR Version), PopCrush Nights (Hot AC Version), Loudwire Nights, Ultimate Classic Rock, XXL Higher Level Radio, and Taste of Country Nights. Townsquare's syndicated shows represent the radio arms of their best-in-class and hugely influential music brands PopCrush.com, Loudwire.com, UltimateClassicRock.com, XXLmag.com, and TasteOfCountry.com, which together reach over 50 million unique visitors each month on their websites and influence over 40 million fans and followers on social media.
The new weekend shows will deliver exceptional content and expertly curated music every hour, and be fully interactive via the brand's mobile app, on which listeners can chat with the host, submit requests, and upload audio to be incorporated into the on-air show. Each show will have two, five-hour episodes, one on Saturday and one on Sunday, and each show has a distinct personality and vibe, with a vibrant and dynamic host.
PopCrush Weekends (CHR Version) will feature the PopCrush Top 25 Countdown to kick off the show, counting down the biggest pop songs of the week and voted on by listeners using the PopCrush mobile app. The countdown will be hosted by multimedia star Donny Meacham, who has been a writer for OK! Magazine, a TV host for Reelz TV, a podcaster for iHeartMedia, and a radio personality for SiriusXM and Press Communications. Los Angeles-based but Louisiana-born Donny is a Southern boy living in a Hollywood world, with a passion for telling people's stories with humor, heart and a little sass. He is a "dating expert" who uses a little tough love to help people love themselves and others. On Saturday nights, the show amps up after the countdown with a Three Hour Hit Mix from DJ Digital, host of the Morning Buzz on Hot 107.9 in Lafayette, Louisiana, and an official DJ of the New Orleans Saints. On Sunday nights, the countdown is followed by three more hours of the hottest songs in pop and Donny's signature commentary on celebrity news and pop culture trends.
PopCrush Weekends (Hot AC Version) offers 5 hours of today's top hits and the best throwbacks from the '00s, combined with fun and irreverent insights on pop culture and lifestyle from trendsetting Nashville personality Lauryn Snapp, formerly of 'CMT Radio Live' and 'After Midnite with Cody Alan.' Lauryn brings exuberance and vitality to every trending topic she covers on the show. She says, "Music moves me, motivates me, and refuels me. I can't stop talking about it and thankfully I have found a way to turn my passion into my career. Listeners know me as the "queen of a good time." Let's connect, laugh, and rally together! Come say hi and join the party!"
XXL Higher Level Weekends brings XXL Magazine's unparalleled influence in Hip-Hop to the airwaves on the weekends. Weeknight showrunner Joey Ech takes the mic on the weekends to share his unequivocal passion and knowledge of Hip-Hop culture, while counting down the hottest tracks from every region of the country, which culminates in the XXL Official Top 10 each and every week. Joey Ech will also deliver great new features, including XXL Tea on the 12s, Today in Hip Hop Moment, and the New Heat Spotlight. The show will leverage XXL's 15 Million fans and followers on social media to incorporate the audience into the show. www.XXLmag.com has been anointed "the most influential hip-hop site in the world" with almost 25 years in the game, and the brand's wildly popular XXL Freshman Class tentpole is the #1 music discovery platform and #1 media program in Hip-Hop.
Taste of Country Weekends extends the reach of the biggest country music brand on the internet and the popularity of the Taste of Country Nights weeknight radio show by bringing Nashville to North America every weekend. Country radio mainstay Jess Rowe hosts the weekend party with artist hangs, stories from the road, and the latest news from Music Row. www.TasteOfCountry.com has the largest digital footprint for Country Music in the US, bringing a down home, family-centric sensibility while covering country music news and lifestyle to an audience of over 4 Million readers per month.
Ultimate Classic Rock Weekends serves up the best music ever made, along with stories from the road, backstage, and the recording studios that made it magical for decades from host Matt Wardlaw, longtime rock radio veteran and editor of www.UltimateClassicRock.com. Matt's 80s to the Max! feature on Saturdays dives into the biggest rock hits of the 80's, coupled with the Oh Wows from hair to pop to alt rock. Billy Idol meets Journey who meets Loverboy. Wardlaw will weave in stories and interviews from his UCR archives with the heavy hitters from this power decade. On Backstage with UCR, Matt will relive some of the greatest live rock performances ever recorded. He'll share classic performances from Cream, Zeppelin and the Stones, along with Bon Jovi, Tom Petty, Guns 'n Roses and many more from the archives. Matt has hours of interviews that he'll work in to segments to give the listeners a true backstage, all access concert experience. www.UltimateClassicRock.com is the #1 destination for music nostalgists – celebrating the latest classic rock news, anniversaries, lists and features and read by over 3 Million people every month.
Loudwire Weekends carries the tradition of Loudwire Nights by playing ALL the Rock that matters, plus rare live versions, special artist blocks, and great songs you may have forgotten. The biggest names in rock regularly stop by to chat or spin their favorite tracks. Host Todd Fooks is a radio vet and journalist with stints in Chicago, Tucson, Salt Lake City, and more. In Todd's own words, "It has been said I'll say anything that comes to mind and not care what people think, but it's not like I'm some guy going out and picking a fight. I'm not that hard-core of a dude. I have a son, a cat, and one awful tattoo that I'll die with. No regrets! I can even tell you how the world is gonna end. It won't be pretty, but what the hell, neither am I." www.Loudwire.com is the #1 source for Hard Rock and Heavy Metal in the US with over 6 Million in audience each month on the web, social media, and its hugely popular YouTube channel.
Townsquare Media Chief Content Officer Jared Willig comments on the new shows, "We are tremendously proud of our format-leading music brands PopCrush, Loudwire, XXL, Taste of Country, and Ultimate Classic Rock, which are truly 360-degree multimedia brands that influence millions of passionate music fans every day on multiple platforms online and on-air. We are also very grateful for our ongoing partnership with Compass Media Networks, which now extends our already popular syndicated radio shows onto the weekends to entertain audiences seven days a week."
Townsquare SVP/Programming and Content Kurt Johnson added, "These shows will become a regular destination for our weekend listeners. Each show is curated by an expert programmer, hosted by a compelling and engaging host, and woven with info and entertainment from the leading music websites in the world."
Adam Wilbur, SVP of Affiliate Sales for Compass Media Networks said, "Our ability to deliver quality, reliable weekend programming along with some of the most well-known online brands for music fans in these formats should give radio station listeners and programmers a chance to settle in and enjoy the community we are building."
Radio stations that are interested in airing these shows should contact Compass Media Networks at dingold@compassmedianetworks.com or 310-242-8746.
About Townsquare Media, Inc.
Townsquare is a community-focused digital media, digital marketing solutions and radio company focused outside the Top 50 markets in the U.S. Our assets include Townsquare Interactive, a digital marketing services subscription business providing web sites, search engine optimization, social platforms and online reputation management for approximately 29,650 SMBs; Townsquare IGNITE, a proprietary digital programmatic advertising technology with an in-house demand and data management platform; and Townsquare Media, our portfolio of 322 local terrestrial radio stations in 67 cities with corresponding local news and entertainment websites and apps including legendary brands such as WYRK.com, WJON.com, and NJ101.5.com along with a network of national music brands including XXLmag.com, TasteofCountry.com, UltimateClassicRock.com and Loudwire.com.
For more information, please visit www.townsquaremedia.com | www.townsquareinteractive.com | www.townsquareignite.com
TASTEOFCOUNTRY.COM | LOUDWIRE.COM | ULTIMATECLASSICROCK.COM | POPCRUSH.COM | XXLMAG.COM