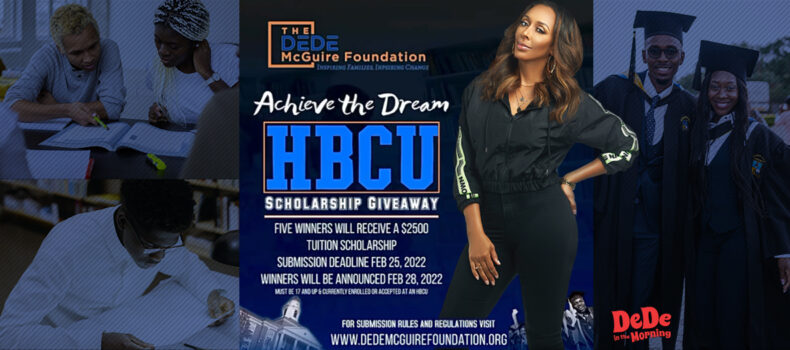 DEDE IN THE MORNING GIVES AWAY SCHOLARSHIPS FOR BLACK HISTORY MONTH
DALLAS, TX, February 2, 2022 — To commemorate Black History Month and to help her listeners achieve their academic and career dreams, DeDe McGuire and her foundation will once again be awarding five listeners $2,500 tuition scholarships for study at an HBCU institution. 
Throughout the month of February, DeDe will be promoting her "Achieve the Dream" Scholarship on her Dallas-based, nationally syndicated radio show "DeDe in the Morning." The scholarship's primary goal is to assist economically-challenged individuals by offering scholarships to a college or university degree from a Historically Black College University (HBCU).
"The Dede McGuire Foundation's mission is to educate minds, increase economic power and build stronger families within our communities," said DeDe McGuire. "With the current climate of the economy, there is an overwhelming need for services. I am so fortunate to be able to help my radio family across the country achieve their educational dreams."
Please be sure to check the Rules and Regulations page for the Scholarship Submission on the website  www.dedemcguirefoundation.org and social media platforms for upcoming news, events, and giveaways scheduled for The DeDe McGuire Family Foundation 2022 year. 
Submissions are due by February 25, 2022 and scholarships will be announced February 28th, 2022.  Listeners to the K104 show and the Compass Media Networks' syndicated show are eligible to apply.
For more information on DeDe in the Morning contact Nancy Abramson nabramson@compassmedianetworks.com
About The DeDe McGuire Foundation: https://www.dedemcguirefoundation.org/
Instagram Post: https://www.instagram.com/tv/CZdHoF8JV4E/?utm_source=ig_web_copy_link
Facebook Post: https://fb.watch/aWr3XYg26i/
#AchieveTheDream | #HBCUScholarship | #DeDeMcGuireFoundation