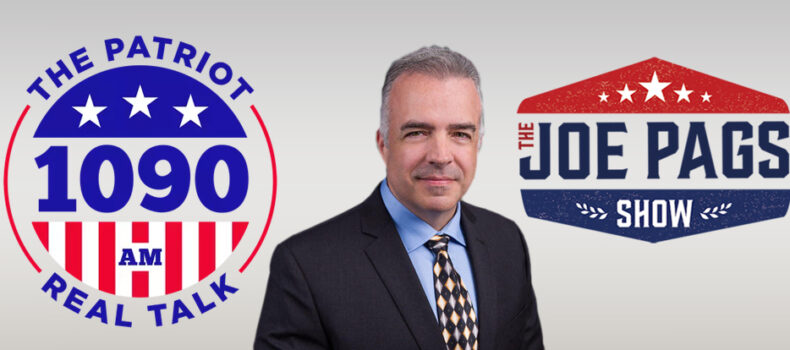 THE JOE PAGS SHOW LAUNCHES IN SEATTLE WITH 1090 THE PATRIOT
SAN ANTONIO, TX – April 11, 2022 — Joe Pags, host of the popular nationally syndicated radio show, The Joe Pags Show, will join 1090 The Patriot in Seattle 6-9 pm beginning Monday, April 11, 2022.  The Joe Pags Show, which is nationally syndicated from his flagship station WOAI-AM San Antonio, is heard in over 160 markets including Houston, Boston, Minneapolis, Denver, Portland, St. Louis, and Indianapolis. "We are excited to be launching 1090 The Patriot in Seattle, and feel we have a strong line-up with Joe Pags anchoring our drive-time into evenings and bringing him to the Seattle market." — Rich Moore, Program Director, 1090 The Patriot
Joe Pags comments, "I am thrilled to bring my show to the great city of Seattle.  Being part of this line-up of talk stars is a true privilege.  I can't wait to give the people of the Emerald City a place to come to voice their concerns, have some fun and take part in important dialogue."
To find out more visit www.compassmedianetworks.com. To request affiliate information contact Robert Blum rblum@compassmedianetworks.com
About The Joe Pags Show:
Based in San Antonio and heard 5-8pm Central the Joe Pags Show is a revenue and ratings winner. 
Pags started his career in radio in 1989 in Palm Beach County, Florida before making his way to the TV anchor desk in Saginaw/Flint, Grand Rapids/Kalamazoo, and Lansing, Michigan then moving on to New York.  From there he was called back to radio and landed at the Clear Channel Talk Flagship, WOAI/San Antonio.  Pags has won multiple Associated Press awards for excellence in journalism in both Michigan and New York.  Michigan Association of Broadcasting award-winner and has been cited by the US House of Representatives and the State of Michigan for his broadcasts following the attacks of 9/11.