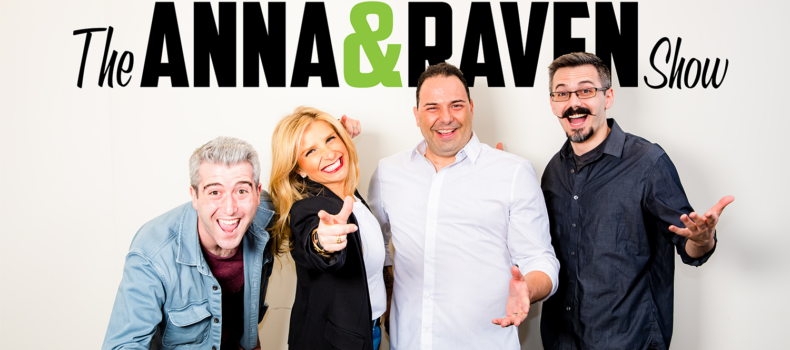 The Anna & Raven Show Adds 8 New Markets
BRIDGEPORT, CT MAY 3, 2022 – Anna & Raven continue to be the dominant, morning-drive show in Connecticut as the foundation for STAR 99.9 WEZN's rating success. Since launching into syndication in 2021 with Compass Media Networks, the program which guides listeners through the wild world of parenting, relationships and pop culture has quickly amassed nearly 40 markets.
KFLX-FM Rewind 92.5 Flagstaff, AZ – Stone Canyon Media
KFYN-AM Rewind 103.9 Bonham, TX – Vision Media Group
KMXW-FM Max 92.5 Cody, WY – Breck Media Group
KSBZ-FM Mix 103 Stika, AK – Frontier Media
WSNI-FM Sunny 97.7 Keene, NH – Saga Communications
WSSV-AM Saratoga's Star Radio Saratoga Springs, NY – Loud Media
WSUL-FM Monticello, NY – Bold Gold
WTTC-AM Valley 107.7 Waverly, NY – Radigan Broadcasting Group
"Anna and Raven are great personalities with excellent execution that really makes them sound local. It also doesn't hurt to have a built-in contest every morning with a cash prize!" — Bob Breck President, General Manager, Breck Media Group Wyoming, Inc.
"Adding Anna and Raven to a second market for us, and for the first time in afternoons on Saratoga's Star Radio, allows us to offer our audience all of the local content they have become accustomed to, as well as engaging, relevant and topical content." — Ricky Lee, Co-Founder, Loud Media
"Anna & Raven's connection to the Northern Arizona audience has been immediate. This female/male duo is super client-friendly and already getting results for our advertisers. Anna & Raven went above and beyond by providing special segments to guide our community. They know how to make syndicated sound local." — Mike Jensen, Vice President/Market Manager, Stone Canyon Media
Anna and Raven commented, "We're honored that these stations have trusted us with their audiences and we're ready to bring laughs and energy to these incredible markets! We love to work hand in hand with our affiliates because when they win, we all win."
To find out how to bring Anna and Raven to your market, contact Nancy Abramson (914) 707-9963 or email nabramson@compassmedianetworks.com.
About Anna and Raven:
Anna and Raven started as a morning show team in Metro Fairfield, CT in 2016 working for Connoisseur Media. The show has been consistently rated #1 in that market since its inception. They expanded their reach, via a partnership with Compass Media Networks, to nearly 40 markets including Long Island, NY, and Miami, FL.  MORE