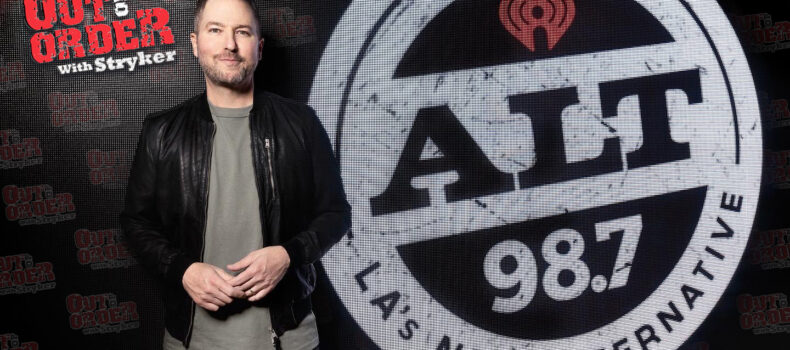 Out Of Order with Stryker Adds Over 20 iHeartMedia Stations
LOS ANGELES, CA, MAY 5, 2022 — Out Of Order with Stryker, the two-hour weekly alternative countdown show is back on the radio in Los Angeles airing on ALT 98.7.  The show is further expanding its affiliates with more than 20 additional iHeartMedia radio stations nationwide, including WRFF-FM Philadelphia, WWDC-FM Washington DC, KTBZ-FM Houston, KTCL-FM Denver, and WEND-FM Charlotte.
The nationally syndicated program, distributed by Compass Media Networks, features the top 20 alternative rock songs in the country… played totally Out of Order. The show also highlights new music and features weekly interviews with some of music's biggest stars.
"I'm so excited to bring Out Of Order to all of these amazing new affiliates," says Stryker, the long-time KROQ Los Angeles host, who recently moved to ALT 98.7 KSYR to host Alt Afternoons as part of the Booker & Stryker show. "Out Of Order is a show that I absolutely love! It's a mix of awesome songs, top artist interviews, and new music discovery."
"Huge thanks to Lisa Worden and the teams at both iHeart and Compass Media Networks who worked together to help make this happen," he adds.
Lisa Worden, iHeartMedia Vice President Rock and Alternative/Program Director, ALT 98.7 Los Angeles states, "I am pumped to add Out Of Order with Stryker to ALT 98.7 and the iHeart Media roster of Alternative stations.  I've always enjoyed listening to the show and think it's a great fit for our stations!"
For more information on Out Of Order, please contact Doug Ingold dingold@compassmedianetworks.com
ABOUT STRYKER:
In addition to hosting afternoons with Booker on ALT 98.7, Stryker continues to host his podcast "Tuna on Toast with Stryker" featuring in-depth interviews with a wide range of artists and entertainers from across the world of music. Stryker is a fixture on the red carpet at such major events as the Grammys and the American Music Awards. He has hosted shows on MTV, VH1 and Direct TV and served as co-host of the long running Loveline program with Dr. Drew.
 # # #
ASSETS:
Instagram: www.instagram.com/tedstryker/