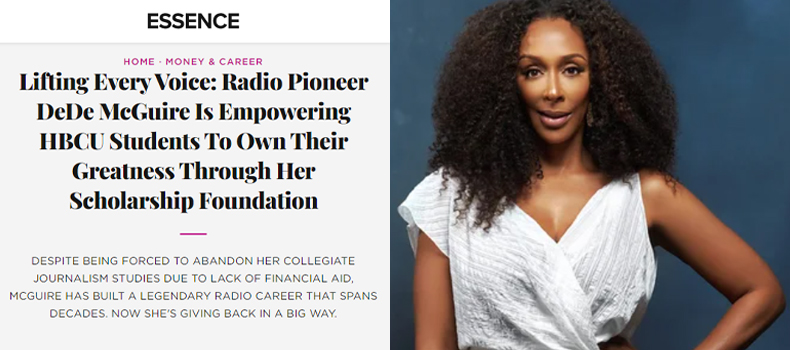 DeDe featured in Essence Magazine Highlighting Her HBCU Scholarship Program
Lifting Every Voice: Radio Pioneer DeDe McGuire Is Empowering HBCU Students To Own Their Greatness Through Her Scholarship Foundation.
DESPITE BEING FORCED TO ABANDON HER COLLEGIATE JOURNALISM STUDIES DUE TO LACK OF FINANCIAL AID, MCGUIRE HAS BUILT A LEGENDARY RADIO CAREER THAT SPANS DECADES. NOW SHE'S GIVING BACK IN A BIG WAY.
Dede McGuire has woken up millions over the years. Since the 1990s her clear, soothing voice has poured over the radio airwaves via different iterations of syndicated shows. One of her most popular stints was a 17-year run alongside Doug Banks until 2011, when she landed her own show, Dede In The Morning. The show is now enjoying its fifth year of syndication in 80 markets, a feat that no Black woman has achieved with an independently-owned media company…