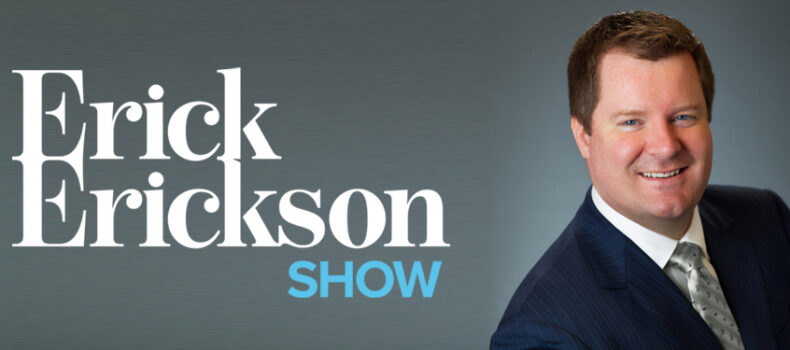 ERICK ERICKSON PARTNERS WITH COMPASS MEDIA NETWORKS FOR NATIONAL EXPANSION OF THE ERICK ERICKSON SHOW
ATLANTA GA, MARCH 6, 2023 — Erick Erickson proudly announces that The Erick Erickson Show has been launched into national syndication in partnership with Compass Media Networks. "We are thrilled to embark on this next chapter of our growth and are so appreciative of our friends and partners who have supported us," said Erick Erickson. 
For over a decade, Erick Erickson has been a fixture on WSB Radio in Atlanta, recently announcing a multi-year contract extension with Cox Media Group to continue on WSB Radio weekdays, 12noon to 3pm ET. Mr. Erickson has built a national following as a political television contributor, former guest-host for The Rush Limbaugh Show, and recently with the self-syndication of The Erick Erickson Show across a growing terrestrial radio network of over 30 markets.
"In the four years, I've worked with Erick, I've been astounded by his talent, his understanding of media and the marketplace, and his ability to build a business," said John McConnell, advisor to The Erick Erickson Show.  "Erick is true to his beliefs, does not conform to the talking points, is thoroughly refreshing, and it is for those reasons he is often the most-listened-to local talk show host in the US.  Moving to the bigger stage, he will bring tremendous success to those that join him."
"At a critical time in our nation's history and just as the public starts to turn their attention to the upcoming Presidential election cycle, we are thrilled to bring Erick Erickson to the national stage," said Peter Kosann, CEO/Founder of Compass Media Networks. "Erick is a winner by every metric and we are lucky to call him our friend and colleague." 
About Erick Erickson
For over a decade, Erick Erickson has broadcast on WSB Radio in Atlanta, recently having announced a multiyear extension for the Noon – 3pm ET time period. A lawyer by training, political contributor to leading cable news networks, and now national radio talk show host, Erick Erickson is known for his intelligence, broadcast talents, political insights, and willingness to speak candidly to his growing audience. The Erick Erickson Show — Smart. Fearless. Occasionally Funny.  Visit ErickErickson.com
Prospective affiliates should contact, Robert Blum at 914-610-4956, rblum@compassmedianetworks.com. Prospective national sponsors should contact Marc Siegel at 914-708-1440; msiegel@compassmedianetworks.com.
MEDIA ASSETS
Bio: https://www.erickericksonshow.com/about-erick
Show Website: https://www.erickericksonshow.com/
Instagram: http://instagram.com/ewerickson
Twitter: http://twitter.com/ewerickson
YouTube: http://youtube.com/ewerickson