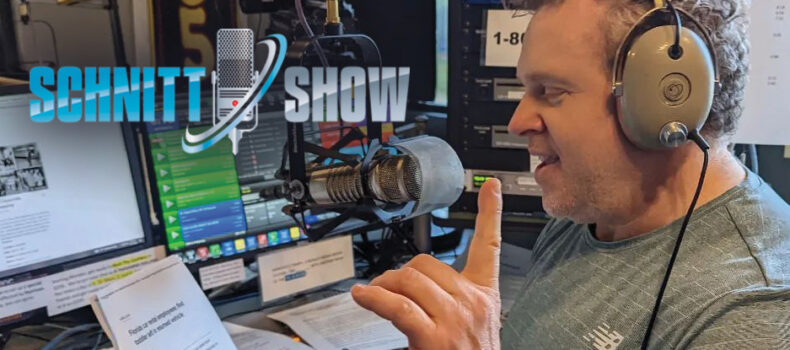 TODD SCHNITT ANNOUNCES JULY 28th BROADCAST OF THE SCHNITT SHOW WILL BE THE FINALE; CAPPING 20+ YEARS OF AFTERNOON TALK SYNDICATION
TODD SCHNITT TO EXCLUSIVELY FOCUS ON THE MJ MORNING SHOW 
TAMPA, FL, JUNE 21, 2023 — Effective July 28th, Todd Schnitt will cease broadcast of THE SCHNITT SHOW to focus full time on The MJ Morning Show, heard on Beasley Media Group's WRBQ in Tampa.
"For over 20 years, I have been working two daily jobs," said Todd Schnitt. "The time has come for me to focus my full energies on The MJ Morning Show… This is bittersweet as it has been a joy and privilege to host The Schnitt Show and I am forever grateful to our affiliates, sponsors, partners, and most importantly our listeners for supporting the show for so many years."
"How many people in the history of radio have hosted two-daily, drive time shows, targeting two completely different audiences, and doing it successfully for over two decades? The answer is virtually no one else," said Peter Kosann, Founder/CEO of Compass Media Networks. "Kudos to Todd for his work ethic, creativity, ingenuity, and talent. It has been an honor to serve as Todd's syndication partner all these years and we look forward to working with him on this next chapter."
The Schnitt Show debuted on Newstalk WIOD/Miami in October 2001 and then on flagship WFLA/Tampa in January 2002. The show quickly rolled into national syndication. At the shows' apex, The Schnitt Show was heard in over 75 markets and on legendary stations including WFLA in Tampa, KNXT in Las Vegas, WTKK-FM Raleigh, KNEW San Francisco, KOGO San Deigo, and WIOD in Miami. 
News-talk listeners loved the sense of urgency Schnitt brought to the news-talk genre, taking listeners live to breaking news events, painting pictures of current events, and thoughtful daily opinion and analysis as the audience was driving home each afternoon.
"The hallmark of The Schnitt Show was prioritizing the most impactful stories of the day and delivering it with a sense of urgency and entertaining personality-driven opinion," said Sue Treccase, Executive Producer of The Schnitt Show. "No one delivers theater of the mind, especially in moments of crisis and confusion, better than Todd Schnitt. I will miss serving as executive producer and thank our listeners and partners for their steadfast support and kindness."
# # #