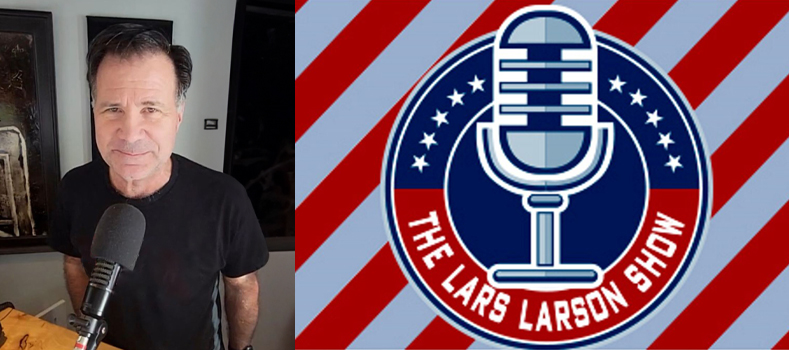 The Lars Larson Syndicated Radio Show Celebrates 20 Years
Portland, OR September 5, 2023 — Lars Larson, the #1 afternoon talk show host on KXL Portland, OR, and host of the nationally syndicated Lars Larson show heard live 3-6 PM Pacific (6-9PM ET) on over 100 affiliate stations, is celebrating an impressive two decades in syndication this month.
Lars Larson states "20 years ago this month, Peter Kosann (then CEO of Westwood One) asked me to do a nationally syndicated radio talk show to replace a departing host.  When Peter and I both left WW1 and he formed Compass Media Networks, he asked if I would continue the partnership we had forged in the first 6 years. I quickly and happily agreed. One of the best decisions I've ever made."
Over the years, Larson's show has not only endured but flourished, proudly marking the start of its third decade in national syndication. The show's unique approach places "naysayers" at the forefront of discussions, fostering open and honest dialogue on a range of topics including the 2nd amendment, illegal immigration, and climate change.
Larson's commitment to providing "Right Talk from the Left Coast" has resonated with audiences across the nation, transcending geographical boundaries and capturing the attention of listeners from Hartford to Honolulu and Anchorage to Pensacola.
To find out about availability in your market contact Rob Blum at Compass Media Networks via email rblum@compassmedianetworks.com or call (914) 610-4956.
About Lars Larson:
Over the past 40 years Lars has worked for more than a dozen radio stations and five television stations. Today, Lars holds down the fort from 12pm -4 pm on FM News 101 KXL in Portland, Oregon. His Northwest show airs on twenty-six stations in the Pacific Northwest (and earns him the biggest local talk radio audience in the region). The national edition of the Lars Larson show (syndicated by Compass Media Networks) launched September 1, 2003. The show continues to grow and Lars currently has multi-year contracts with both Compass Media Networks and Alpha Media/KXL. 
About THE LARS LARSON SHOW