Ultimate Classic Rock
ULTIMATE CLASSIC ROCK – based on the popular music brand ULTIMATECLASSICROCK.COM. The show features the best rock songs ever made, interviews with the legends of rock, performances, and trending information on classic rock artists, albums and concerts.
ABOUT THE HOST
Living Classic Rock from its very beginning — both on stage and on air since 1968 — music has been Joe Benson's life. Whether playing it, talking with artists and fans about it or documenting it with his definitive UNCLE JOE'S RECORD GUIDES, his syndicated OFF THE RECORD rock star interview program and UNCLE JOE'S GARAGE podcasts, Benson's always been rocking! Hailed as "An AOR Legend" in Don Barrett's definitive book, "Los Angeles Radio People," Benson is more than a popular Southern California entertainer. He's been a family member to millions of Southland listeners over the past 37 years — their own 'Uncle Joe.' In addition, his passion and unique involvement in motorsports — as a participant, announcer and reporter — has garnered national print and TV attention while keeping him in constant touch with his audience.
"Joe's name is synonymous with great rock radio," senior VP of programming Kurt Johnson said. "We're excited to have him crack the mic nightly on the 50+ national affiliates of Ultimate Classic Rock, and to share commentary, stories, interviews and videos with our audience on UltimateClassicRock.com."
SALES PRESENTATION | SHOW CLOCK |FACEBOOK | TWITTER | INSTAGRAM
HOST/PRESS PHOTOS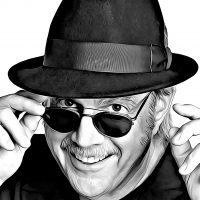 WEBSITE