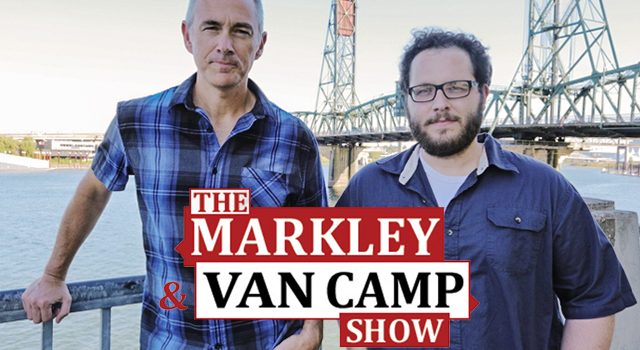 Compass Media Networks welcomes The Markley & van Camp Show to National Syndication
JANUARY 24, 2018 – Alpha Media is proud to announce the selection of Compass Media Networks to manage the syndication of The Markley and van Camp Show, beginning April 2, 2018.
The MVC Show, broadcasting live 9am – Noon PST, and is currently heard on WMBD-AM: Peoria, IL., WFTL-AM: West Palm Beach, FL., KFOR-AM: Lincoln, NE., KFQD-AM: Anchorage, AK., KOKC-AM: Oklahoma City, OK., WBRP-FM: Baton Rouge, LA., and most notably KXL-FM in Portland, OR. The show is an often-humorous collection of hot takes on the day's top trending stories.
Alpha Media Executive VP of Content, Scott Mahalick commented on the announcement, "Jamie Markley and Dave van Camp are rock stars. They are different from other News-Talk shows. Our goal was to end up as the new face of NT Radio to give the format something fresh and different, and MVC bring it every day!"
Compass Media Networks Founder/CEO, Peter Kosann added, "Thank you Alpha Media for developing MVC! Markley & van Camp bring a unique mix of humor and fun to current events that will retain core talk-radio listeners while gaining the hearts and minds of millennials searching for compelling daytime entertainment."
"We are thrilled and appreciative for the opportunity to go national. Thank you in advance to our affiliates and advertisers for their faith in us," remarked Markley.
Jamie Markley is about 20 years older and has 20 times less hair than his co-host. The age brings experience, while the hair loss is just a symptom of being a former program director. A Mid-Westerner and family man, the former rock DJ dazzles with his wit and uncanny ability to remember the length of nearly every 1980's rock song. He's a massive Dallas Cowboys fan, of which he has no problem constantly reminding you in the off-chance you think he's an America-hating communist.
David van Camp is a Texan, but that isn't held against him. DVC conveys a no-bull attitude and then hits you with a curveball joke. The (last) Houston Texans fan is also a former news director who somehow made it out of Mexico, Missouri alive, even if a little less sober.
AFFILIATE COMMITTMENTS SECURED IN ALL TIME ZONES – ANCHORAGE, BATON ROUGE, LINCOLN, ORLANDO, PEORIA, PORTLAND, WEST PALM BEACH.
About Alpha Media:
Upon the successful completion of all pending transactions, Alpha Media, a diverse, multimedia company will own or operate 227 radio stations and 224 websites serving 49 markets across the United States. In addition to the stations and websites, Alpha Media owns the intimate performance venues, PDX Live Studio in Portland, OR., Alamo Lounge in San Antonio, TX, and StudioEast in Kenosha, WI. Strong relationships with clients and community members keep Alpha true to its Live and Local philosophy. Alpha Media is relentlessly focused on innovation, efficiency, and entertainment. www.alphamediausa.com
LEARN MORE ABOUT THE MARKLEY & VAN CAMP SHOW