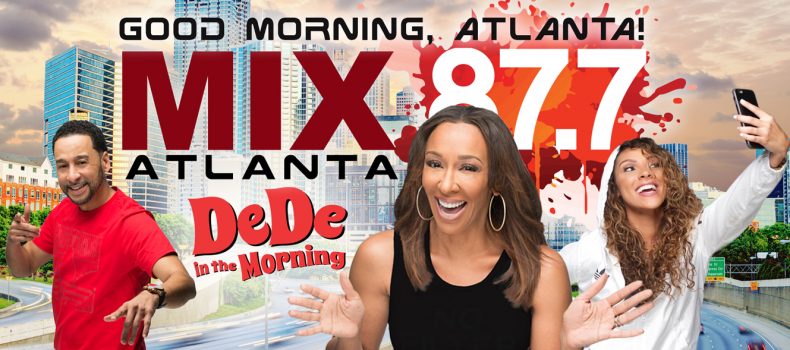 DeDe In The Morning says "Good Morning, WTBS Mix 87.7 Atlanta!"
The new year brings continued momentum and excitement for the syndication of DeDe In The Morning. DeDe debuted New Year's Day in Atlanta – adding another Top 10 market to the growing roster of stations. This Saturday marks the expansion of the program for weekends with the debut of DeDe's Weekend Kickback. 
For immediate release –
Service Broadcasting (owner of K104 in Dallas and flagship for Dede in the Morning) and Compass Media Networks (exclusive syndication partner) announced the continued expansion of the DeDe in the Morning franchise with the clearance of the program in Atlanta as well as the debut of DeDe's Weekend Kickback.
 "We are thrilled with our progress nationally and appreciative to now be heard in Atlanta," said Geo Cook, Director of Operations & Brand Manager for K104 FM. "The launch of DeDe's Weekend Kickback is in response to our growing list of affiliates who want unique and compelling content for weekends, in addition to weekday mornings."
Said Steve Hegwood, President of Core Radio Group LLC, operating "Mix 87.7 WTBS" in Atlanta, "I have been a huge fan of DeDe for years. Her morning show has been extremely successful on KKDA Dallas. DeDe delivers compelling, creative content daily, she's funny & she works hard at the craft of entertaining. We are excited to bring her talents to the most competitive urban market in America – Atlanta, Georgia."
Compass Media Networks officially launched DeDe in the Mornings in partnership with Service Broadcasting K104 in Dallas TX in July 2018. The show has several other early adopters, most notably WJMR-FM in Milwaukee WI. Other affiliates include 96.3 Victorville CA, Streetz 87.7 Norfolk VA, KZWA Lake Charles LA, WHJA Hattiesburg MS and KZYQ Greenville MS.