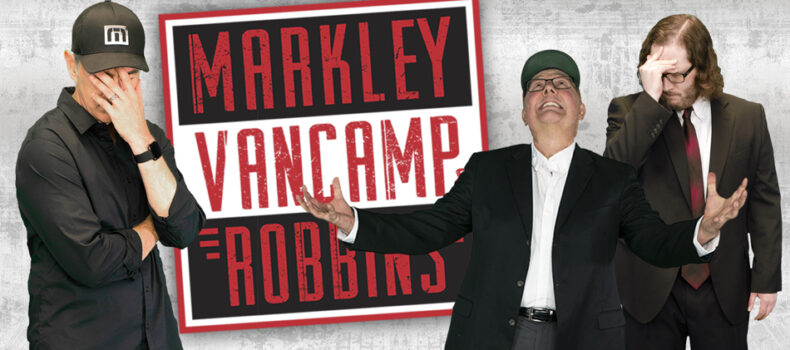 MARKLEY, VAN CAMP & ROBBINS MARCHING TOWARDS 100
MARKLEY, VAN CAMP & ROBBINS ADDS SEVENTEEN LIVE STATIONS 12-3p ET. Alpha Media and Compass Media Networks are experiencing a surge in demand for The Markley, van Camp & Robbins Show. The show recently added over two dozen new markets with seventeen new LIVE clears for MARKLEY, VAN CAMP & ROBBINS (MVR):
                                                MARKET                        STATION
                                                Brownwood TX                 KXYL-AM
                                                Danbury CT                        WLAD-AM
                                                El Dorado AR                     KELD-AM
                                                Eugene OR                          KPNW-AM
                                                Eureka CA                           KINS-AM
                                                Fairfield IL                          WFIW-AM
                                                Jacksonville IL                   WJIL-AM
                                                Juneau AK                          KJNO-AM
                                                Klamath Falls OR             KAGO-AM
                                                Medford OR                       KMED-AM
                                                Peoria IL                             WMBD-AM
                                                Robinson IL                       WTAY-AM
                                                Saginaw MI                        WSGW-AM/FM
                                                Sheldon IA                          KIWA-AM
                                                Susanville CA                     KSUE-AM
                                                Vincennes IN                     WAOV-AM
                                                Waynesville MO               KJPW-AM
Dave Maurer, Operations Manager WSGW Saginaw MI, says, "The live Markley, van Camp and Robbins show is making a positive contribution to the programming of 100.5 & 790 Newsradio WSGW!  The guys get on the hot topics of the day, but they also know when to take the off ramp and add some entertaining elements to the show.  I'm confident they are bringing us a broader audience including younger listeners and more women."
Sarah Shellhammer, Owner WJIL Jacksonville IL, shares "So sorry for the loss of the Great Rush Limbaugh but MVR has done a great job filling that slot.  They are entertaining, sharp, informed and our loyal Rush fans love them!"
The show represents perspectives from every generation. David van Camp is a millennial, Jamie Markley represents Gen X, and Scott Robbins is the Baby Boomer. The witty and downright funny conversations between the hosts about the news topics of the day make this show truly unique. The show airs live weekdays from 9am to 12 noon Pacific (12noon to 3pm ET) and a best-of on weekends.
"Markley, van Camp and Robbins have achieved the perfect blend of chemistry and humor" said Phil Becker, Executive Vice President of Content, Alpha Media. "This is the show News Talk stations have been looking for."
Now with almost 100 markets including Seattle, Portland, San Antonio, Orlando and Peoria find out how to reserve yours today contact Robert Blum (914) 610-4956 rblum@compassmedianetworks.com.
ABOUT THE MARKLEY, VAN CAMP & ROBBINS SHOW:
How about a real conversation — with a conservative perspective, reflecting on the news of the day… All with a strong dose of humor? Jamie Markley (Gen-X), David van Camp (Millennial), and Scott Robbins (Baby Boomer) link three generations bringing you all of the stories that truly resonate. THE MARKLEY, VAN CAMP & ROBBINS SHOW (MVR) topics swing from the day's hard news to lighter stories and segments that we really want to talk about and will leave you wanting more i.e. The Friday Five listener-interactive relevant song countdown and Nimrods in the News, speaks for itself. MVR is a relevant conversation that keeps listeners tuned-in from generation to generation. MORE
ABOUT ALPHA MEDIA:
Alpha Media is a diverse multimedia company sharing your favorite music, sports and news across a variety of platforms. Whether it's on your phone, desktop, tablet, Alexa, Google Home or in your car, our stations will enhance your journey. Headquartered in Portland, Oregon.