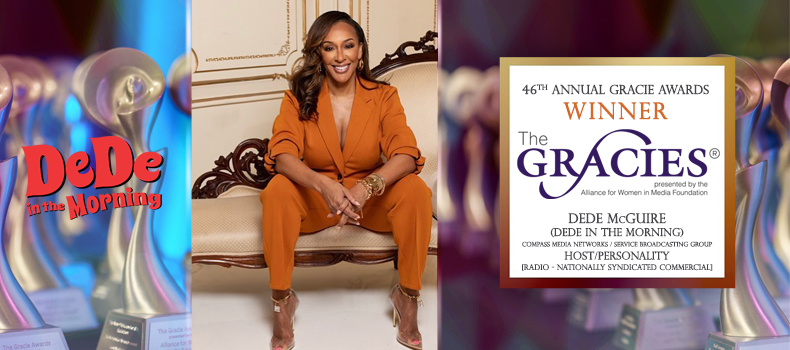 DeDe McGuire Wins Gracie Award for Host/Personality in National Syndicated Radio
DeDe McGuire Is A Winner!
DeDe McGuire, the host of DeDe in the Morning, a nationally syndicated show heard on 55 stations, is winning in her markets and today — she was honored with a prestigious Gracie Award presented by the Alliance for Women in Media Foundation. The Awards honor the most talented women in Radio, TV, and digital media.
This year's Gracie Awards pay special recognition to entertainment and news programming that addresses "timely topic and social issues." DeDe was a voice of unity and hope during the Black Lives Matter protests and brought laughter and light to her nationwide listeners during the pandemic. This is a well-deserved win and we are so proud to work with DeDe and her team.
Congratulations, Dede!!
Listen to DeDe announcing the award:
Alliance for Women in Media Foundation Announcement HERE