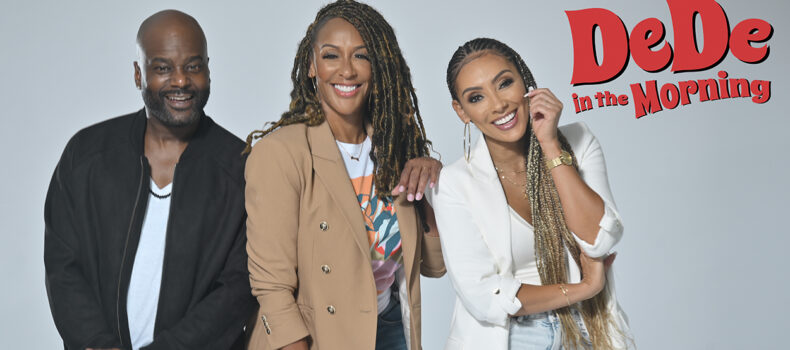 DEDE IN THE MORNING TO AIR ON WPWX "Power 92" IN CHICAGO
CRAWFORD BROADCASTING ANNOUNCES THE ADDITION OF DEDE IN THE MORNING ON WPWX "Power 92" IN CHICAGO
STARTING MONDAY, JANUARY 3rd, DEDE IN THE MORNING WILL BROADCAST weekday mornings 5AM-9AM
 Crawford Broadcasting announced today that beginning Monday, January 3, 2022, WPWX-FM "Power 92" will broadcast "DeDe in the Morning" from 5AM -9AM weekdays.
"We are ready for DeDe in the Morning to take over the Windy City and welcome her as the first lady of Chicago radio." said Ruben Cornejo, General Sales Manager.
Jay Alan, Program Director for Power 92 states: "We're so excited to have DeDe wake-up Chicago on Power 92, her whole vibe and feel is what the city and morning radio has been missing… Plus, she's a woman and we all know that women run the world."
DeDe McGuire adds "Get Ready Chicago. We are going to take over the Streets with fun and laughter every morning…Welcome Power 92 to DeDe Nation."
Compass Media Networks officially launched DeDe in the Mornings in partnership with Service Broadcasting K104 in Dallas, TX in July 2018. The show is now heard in 60 markets including Dallas, Chicago, Milwaukee, Pittsburgh, New Orleans, New Haven, Austin, and Oklahoma City.
To find out how to get DeDe in the Morning in your market contact Compass Media Networks (914)707 9963 or email nabramson@compassmedianetworks.com.
ABOUT CRAWFORD BROADCASTING:
The Crawford Broadcasting Company is home to several of Chicago's largest urban radio stations reaching half a million listeners each week through the broadcast of hip-hop, r&b, gospel and rhythmic formats.  The broadcasting company is home to hip-hop and R&B powerhouse WPWX Power 92, a community-focused station that has spent 20 years in the Chicago market helping to launch the careers of artists like Kanye West, Jeremih and Chance the Rapper to name a few. Known for its street pulse and local appeal the station has grown into a local pillar in the community through its outreach and support of local businesses, particularly black and minority-owned.
If you would like to advertise on DeDe's morning show in the Chicago Market – Contact Ruben Cornejo @ 312 649 2431
MORE ABOUT DEDE IN THE MORNING SHOW