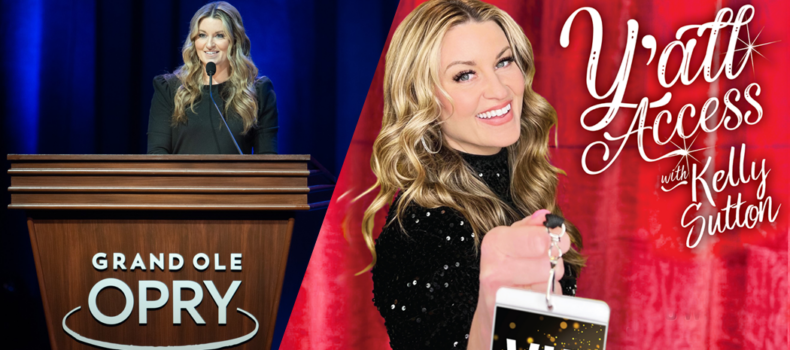 Y'ALL ACCESS WITH KELLY SUTTON ADDS NASHVILLE'S LEGENDARY WSM
WSM is now the Flagship and will air the program twice a week. Y'all Access with Kelly Sutton, the three-hour syndicated country music magazine, welcomes legendary AM radio station WSM to its roster of affiliates, starting this weekend, August 6.  The station will air the program Saturday afternoons beginning at 2pm CT, with an additional airing in overnights.
As one of Nashville's most beloved on-air personalities, Kelly Sutton brings two decades of reporting experience covering country music's biggest events to radio, television, and streaming audiences each week.  On the weekend she shares those stories, experiences, and interview clips with the Y'all Access affiliates in a program unlike anything else on country radio.
"One of the highlights of my year has been having Kelly join our family and become the first full time female announcer at the Grand Ole Opry" said J. Patrick Tinnell (J.P.), Content Director and General Manager of WSM-AM, "I cannot think of a better fit for Y'all Access than WSM. This is Kelly's home and I know she will continue to entertain and educate an audience that already loves her."
"I have the world's best jobs, talking to country stars and introducing them on the Grand Ole Opry," Kelly exclaims. "Y'all Access takes the highlights of what I do all week long and packages them up for country music fans from coast to coast.  And now I'm even more excited to expand our audience by adding our Nashville flagship station for everyone listening around the world on the official WSM app."
This three-hour show, programmed by Patrick Thomas, President of Silverfish Media, in Nashville, TN, consulted by Becky Brenner of Albright & O'Malley & Brenner and produced by industry veteran Joyce Rizer, has been building up to this moment with the show already heard in over 25 markets. 
Stations interested in finding out more can contact Doug Ingold at Compass Media Networks at dingold@compassmedianetworks.com
MORE INFORMATION about Y'ALL ACCESS with KELLY SUTTON
About Kelly Sutton
Emmy-winning TV Anchor and Radio Personality Kelly Sutton has called Nashville home since 2001. After arriving in Tennessee, Kelly quickly found her niche covering the Country Music scene. She has covered the biggest events and stories in country music for outlets including Amazon Music, CMA, ABC.com, Holler.Country, Tune-In Radio, and local NBC television stations.  Kelly's current slate of hosting duties includes co-hosting Coffee, Country & Cody on WSM-AM / Circle TV, hosting Amazon Music's Country Heat Weekly podcast and Country Heat Radio in DJ Mode.  Kelly made history on February 18, 2022 when she was named as the first full-time female announcer at the Grand Ole Opry.
About Silverfish Media
Silverfish Media is a production company based in Nashville, TN, home to Big D and Bubba, Country with Carsen and Honky Tonkin' with Tracy Lawrence.
https://www.compassmedianetworks.com/index.php/album/yall-access/
https://twitter.com/thekellysutton
https://www.instagram.com/thekellysutton/
https://linktr.ee/thekellysutton
Amazon "Country Heat Weekly" podcast 
WSM & Circle TV "Coffee, Country & Cody"
Connected with Kelly (You Tube)
Y'all Access Radio  (Syndicated Radio)
Ask Alexa: "Play Country Heat in DJ Mode"