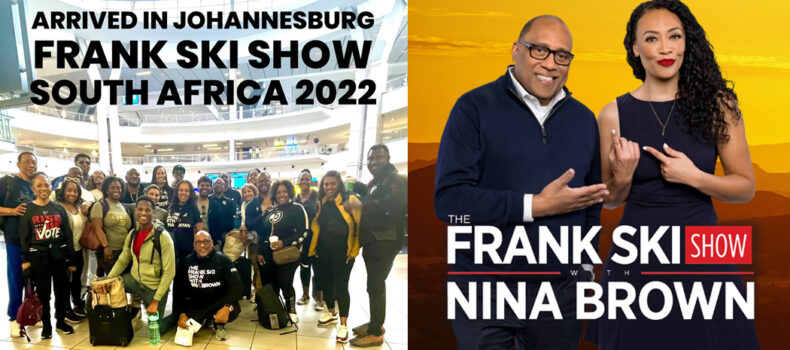 THE ANNUAL FRANK SKI SHOW LISTENER WORLD TOUR CONTINUES WITH 2022 TRIP TO SOUTH AFRICA 
RYE, NEW YORK, DECEMBER 13, 2022 — Frank Ski has been taking his listeners on exciting trips around the world for the past two decades. It's part of his unique philosophy to educate and share his experiences with his loyal listeners.  The trip sold out within hours of advertising the tour to his DC and Atlanta radio audience. Frank has this type of unique relationship with his fans. Trip highlights included Lunch and Tour at Cape Wine Vineyards, Robben Island Tour with Nelson Mandela's prison guard, and a 3-day Safari at 5-Star Kapama River Lodge. 
Frank Ski says, "These trips are a once-in-a-lifetime event for our listeners and we go the extra mile to ensure that the experience leaves an impression of awe and wonder. We will extend the opportunity to participate in Frank Ski international trips to our new family of affiliates across our network."
The Frank Ski Show, hosted by Frank Ski with Nina Brown, currently airs in morning drive in Atlanta on Cox Media Group's WALR-FM and afternoons in Washington, DC on Howard University's WHUR-FM. In both markets, the show enjoys impressive ratings including being #1 rated women 25-54 in the nation's capital. The syndicated program will be launching in January 2023 in one of the most anticipated national launches in recent times and will be produced to enable affiliates to broadcast in all urban genres.
For more information on how to secure The Frank Ski Show with Nina Brown in your market, call Nancy Abramson (914) 707-9963 or email nabramson@compassmedianetworks.com or Gary Bernstein at 508-245-1776 or gary@oceanictradewinds.com     CLICK HERE FOR MORE
ABOUT THE FRANK SKI SHOW:
'The Frank Ski Show' has been a top-rated radio program since 1985, with record-breaking performances in Baltimore, Atlanta, and Washington D.C. Frank Ski's distinctive hosting style and sense of humor, balances music with celebrity guests and discussions of culture, local and national headlines, and topical subject matter. Off the air, Frank works tirelessly to engage the audience and deliver support to community organizations throughout Atlanta, and the nation. 
ABOUT OCEANIC TRADEWINDS:
Gary Bernstein, President/COO of Oceanic Tradewinds, has over 30+ years of experience in all aspects of the entertainment industry. As a super media agent, syndicator, music manager, and producer, Bernstein is known for building and/or creating the largest audio content footprint in the contemporary radio era including Rickey Smiley, Wendy Williams, Frank Ski, Russ Parr, Donnie McClurkin, Yolanda Adams, Jekalyn Carr, Al Sharpton, Roland Martin, and the Baka Boyz, just to name a few. Learn more at www.oceanictradewinds.com
# # #
MEDIA ASSETS:
Website: http://frankski.com/  
Instagram: https://www.instagram.com/frankskishow/
Facebook: https://www.facebook.com/FrankSkiShow
Affiliate Info: https://www.compassmedianetworks.com/index.php/album/the-frank-ski-show
https://www.instagram.com/p/CljPL6rL8FY/?igshid=MDVlOGU2MWU=