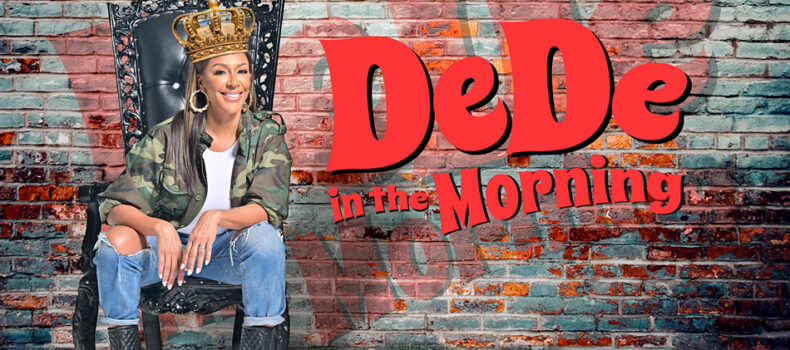 DeDe in the Morning Celebrates the New Year with 7 New Affiliates
DALLAS, TX, January 25, 2023 — DEDE IN THE MORNING continues to expand with the addition of seven new markets. The show is heard nationwide in nearly 80 markets including Charleston, Paducah, South Bend, Gainesville, Kalamazoo, Meridian and Starkville — all join a growing list of nearly 80 Stations.
WXST          99.3 The Box              Charleston, SC          
WKYX          The Beat                     Paducah, KY  
WSMK         WSMK 99.1                 South Bend, IN          
WGGG         Power 92.1                  Gainesville, FL             
WBXX          The Block                    Kalamazoo, MI             
WJXM          95.1 The Beat             Meridian, MS
WACR          WACR 105.3               Starkville, MS
"Charleston is so happy to welcome DeDe in the Morning to our city," said Steve Crumbley Operations Director, Charleston Radio Group. "Already her energy, her fun, her topicality has turned up mornings in Chuck Town. DeDe will change the face of Morning radio and Charleston!"
"DeDe in the Morning is winning for us on  HOT 97-3 in Toledo," said Mike Mori, Market President, Glass City Radio Toledo, OH and Golden Triangle Radio, Starkville, MS. "When we needed a new morning show for WACR, we didn't have far to look. It made perfect sense to expand our partnership with DeDe in the Morning to Starkville."
"Paducah has a new BEAT, and we are so happy to have DeDe in the Morning waking us up with laughter and fun," said AJ Martin, Program Director for the recently launched Hip Hop station. "In a few short weeks, DeDe and her team have lit-up Paducah."
DeDe McGuire comments, "I am so blessed and grateful to have seven new radio homes. A BIG THANK YOU my new radio partners for believing in the show. There is no stopping us."
ABOUT DEDE IN THE MORNING: From SBG Content Factory and the studios of the world famous K104 in Dallas, DeDe in the Morning is broadcast 5am – 10 am EST, Monday – Friday; DeDe McGuire is the Host and is joined by cast members, Comedian JJ Williamson, J-Kruz, and newest team member, Tik Tok sensation Kita Rose. Super producer Gary Saunders serves as Lead Producer; David Carter serves as Associate Producer. Ben Burnside serves as Creative Services Director. Brand strategist and media maven George "Geo" Cook serves as Head of Content and General Manager.