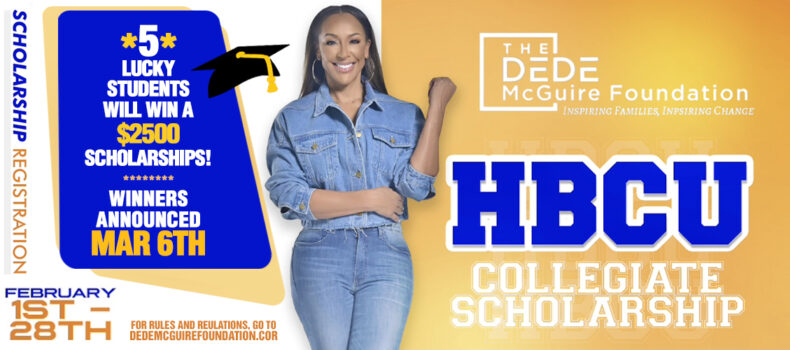 DEDE IN THE MORNING GIVES AWAY SCHOLARSHIPS FOR BLACK HISTORY MONTH
To commemorate Black History Month and to help her listeners achieve their academic and career dreams, DeDe McGuire and her foundation will once again be awarding five listeners $2,500 tuition scholarships for study at an HBCU institution. 
The DeDe McGuire Foundation is dedicated to helping students of all backgrounds realize their full potential and this scholarship is just another way to do that. We understand the financial and academic challenges that many students face and are committed to providing support and resources to create pathways to success.
Throughout the month of February, DeDe will be promoting her "Achieve the Dream" Scholarship on her Dallas-based, nationally syndicated radio show "DeDe in the Morning." The scholarship's primary goal is to assist economically challenged individuals by offering scholarships to a college or university degree from a Historically Black College University (HBCU).
DeDe McGuire comments, "Black History Month is about recognizing our legacy and contributions to society. What better way to continue that legacy than with a scholarship that furthers education at one of the 100 HBCU campuses."
Please be sure to check the Rules and Regulations page for the Scholarship Submission on the website  www.dedemcguirefoundation.org and social media platforms for upcoming news, events, and giveaways scheduled for The DeDe McGuire Family Foundation 2023 year. 
Submissions are due February 28, 2023 and scholarships will be announced March 6, 2023.   Listeners of her K104 show and of her Compass Media Networks' syndicated show are eligible to apply.
For more information on DeDe in the Morning contact Nancy Abramson nabramson@compassmedianetworks.com .
About The DeDe McGuire Foundation:  In September 2018, DeDe McGuire launched her non-profit organization, The Dede McGuire Foundation. DeDe has always supported non-profits that inspired and empowered women for success. One thing that DeDe noticed was that many women, especially in underserved communities, could not afford to continue or pursue a higher level of education because of personal hardships, becoming a new mother, financial hardships or other circumstances. The DeDe McGuire Foundation creates stronger families and communities by strengthening the role of women and mothers by offering scholarships to women whose higher education was interrupted or derailed because of family, personal obligations or financial distress. The Foundation's primary goal is to assist low-income women and mothers furthering their education with financial means. The DeDe McGuire Foundation helps women with a second chance to obtain a vocational, collegiate or university degree. https://www.dedemcguirefoundation.org/
ABOUT DEDE IN THE MORNING: From SBG Content Factory and the studios of the world-famous K104 in Dallas, DeDe in the Morning is broadcast 5am – 10 am EST, Monday – Friday; DeDe McGuire is the Host and is joined by cast members, Comedian JJ Williamson, J-Cruz and newest team member, Tik Tok sensation Kita Rose. Superproducer Gary Saunders serves as Lead Producer; David Carter serves as Associate Producer. Ben Burnside serves as Creative Services Director. Brand strategist and media maven George "Geo" Cook serves as Head of Content and General Manager.
ABOUT DEDE MCGUIRE: DeDe McGuire is a proven winner – as host of DeDe in the Morning since 2013 on K104 in Dallas and one of the fastest growing nationally syndicated morning shows. DeDe has appeared on CNN, FOX, Oxygen and BET, and has interviewed world leaders from President Obama to Hillary Clinton, and celebrities such as Jay Z and Beyoncé. She is a philanthropist, community activist, mentor, volunteer, and media star. She has been recognized within her industry and community. Some of her accolades include Gracie award winner in the Nationally Syndicated host category honoring the most talented women in Radio (2021), Most Influential Women Airblazer Award (2021) and International Black Broadcasters (IBBA) Lifetime Achievement Award (2013). Dede enjoys spending time with her husband Chris Allen and their Little Dak Prescott Allen.
# # #
MEDIA ASSETS:
The DeDe Foundation Website: https://www.dedemcguirefoundation.org/
Application: https://www.dedemcguirefoundation.org/scholarship-application.html
Instagram Post: https://www.instagram.com/p/CoGmOZwuZaN/?utm_source=ig_web_copy_link
General Show Info: https://www.compassmedianetworks.com/index.php/album/dede-in-the-morning/
Show Website: https://www.dedemakesmelaugh.com/