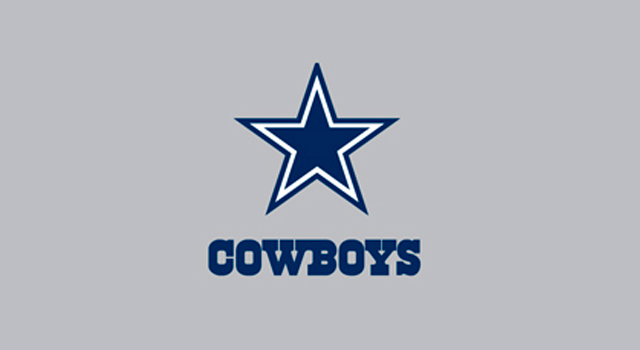 Dallas Cowboys Announce 2017 Preseason Opponents and Camp Dates
The Dallas Cowboys will kick off the 2017 NFL preseason in Canton, Ohio, facing the Arizona Cardinals in the annual Hall of Fame Game on Thurs., Aug. 3. The team will resume training camp in Oxnard, Calif. following the Hall of Fame enshrinement festivities, including the induction of Cowboys owner Jerry Jones in the PFHOF Class of 2017, and play at the Los Angeles Rams in Week 2 (Aug. 11-13). The Cowboys return to Dallas to take on the Indianapolis Colts for Week 3 (Aug. 19-20). The next week (Aug. 25-27), Dallas plays host to the Oakland Raiders before closing
out the preseason at the Houston Texans – historically on a Thursday (Aug. 31).
Dates and times for the non-nationally televised preseason games have not yet been determined. The NFL has not released the 2017 regular season schedule at this time.
Dallas Cowboys Preseason Schedule
Thurs., Aug. 3 vs. Arizona Cardinals, Canton 7:00 p.m.
Game 2 at Los Angeles Rams TBD
Game 3 vs. Indianapolis Colts TBD
Game 4 vs. Oakland Raiders TBD
Game 5 at Houston Texans TBD
The Dallas Cowboys are tentatively scheduled to arrive in Oxnard, California for training camp on Sat., July 22 and break camp on Fri., Aug. 18. Training camp will resume at Star in Frisco with practices that are open to the public from Monday, August 21 to Tuesday August 29.
2017 Dallas Cowboys Tentative Training Camp Key Dates
Sat., July 22 Team Charter arrives at Pt. Mugu
Sun., July 23 Opening press conference (11:00 a.m. PDT)
Mon., July 24 First practice – full roster (3:45 p.m. PDT)
Wed., Aug. 2 Team travels to Canton, Ohio
Thurs., Aug. 3 Hall of Fame Game vs. Arizona (7:00 p.m. CDT)
Sat., Aug. 5 Hall of Fame Enshrinement
Mon., Aug. 7 Practice Resumes (Oxnard, Calif.)
Aug. 11-13 Dallas @ Los Angeles, Los Angeles Memorial Coliseum
Fri., Aug. 18 Break camp in Oxnard – travel to Dallas
Aug. 19-20 Dallas vs. Indianapolis, AT&T Stadium
Mon., Aug. 21-Tue. Aug. 29 Training camp resumes at The Star in Frisco
Aug. 25-27 Dallas vs. Oakland, AT&T Stadium
Thurs., Aug. 31 Dallas @ Houston, NRG Stadium
More information about the credential application process will be made available at a later date.