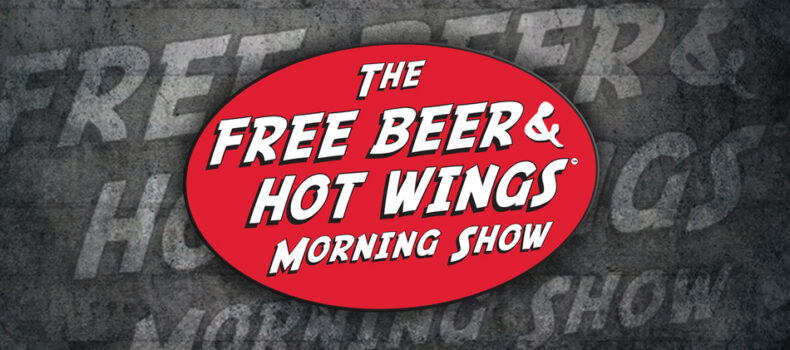 TOWNSQUARE MEDIA ANNOUNCES MULTI-YEAR EXTENSION & EXPANSION OF FREE BEER & HOT WINGS MORNING SHOW
EXTENSION OF THE TOP-RATED MORNING SHOW IN SEVENTEEN EXISITING TOWNSQUARE MARKETS, INCLUDING FLAGSHIP WGRD-FM IN GRAND RAPIDS. ADDITIONS OF WAAL-FM IN BINGHAMTON, WBUF-FM IN BUFFALO, KLUB-FM IN VICTORIA.
Townsquare Media, Inc. announced today the extension of Free Beer & Hot Wings across seventeen existing stations and the addition of the top-rated morning show on WAAL in Binghamton, NY, WBUF in Buffalo, NY and KLUB in Victoria, TX.
"Free Beer & Hot Wings have demonstrated time and again that they can win in our markets, and we are proud to announce that we have extended our agreement with them so that we can keep winning," said Erik Hellum, Townsquare Chief Operating Officer-Local Media.
"This is a labor of love," said Gregg "Free Beer" Daniels. "Townsquare Media has been a tremendous friend and partner to us."
Added "Hot Wings" Chris Michels, "In many of these markets, we have celebrated years of ratings success and these communities feel like home to us."
"We are excited to win in Buffalo, Binghamton, and Victoria," said Co-Host Joe Gassman. "We were made for Buffalo – the home of the original hot wing."
Townsquare now broadcasts Free Beer & Hot Wings in the following markets: Albany NY, Atlantic City NJ, Augusta ME, Battle Creek MI, Binghamton NY, Bismarck ND, Buffalo NY, Casper WY, Duluth MN, Evansville IN, Flint MI, Grand Rapids MI, Grand Junction CO, Monmouth-Ocean NJ, Missoula MT, Utica NY, Rochester MN, Victoria TX, Yakima WA, and Wichita Falls TX.
"Compelling, relatable, timely, and entertaining content wins," said Kurt Johnson, Townsquare Senior Vice President of Programming. "We could not be happier to have Free Beer & Hot Wings continue as a key part of our success on these rock stations for years to come."
****************
About Townsquare Media:
Townsquare is a community-focused digital media, digital marketing solutions and radio company focused outside the Top 50 markets in the U.S. Our assets include Townsquare Interactive, a digital marketing services subscription business providing web sites, search engine optimization, social platforms and online reputation management for approximately 22,750 SMBs; Townsquare IGNITE, a proprietary digital programmatic advertising technology with an in-house demand and data management platform; and Townsquare Media, our portfolio of 322 local terrestrial radio stations in 67 cities with corresponding local news and entertainment websites and apps including legendary brands such as WYRK.com, WJON.com, and NJ101.5.com along with a network of national music brands including XXLmag.com, TasteofCountry.com, UltimateClassicRock.com and Loudwire.com.  For more information, please visit www.townsquaremedia.com, www.townsquareinteractive.com, and www.townsquareignite.com
About Free Beer & Hot Wings