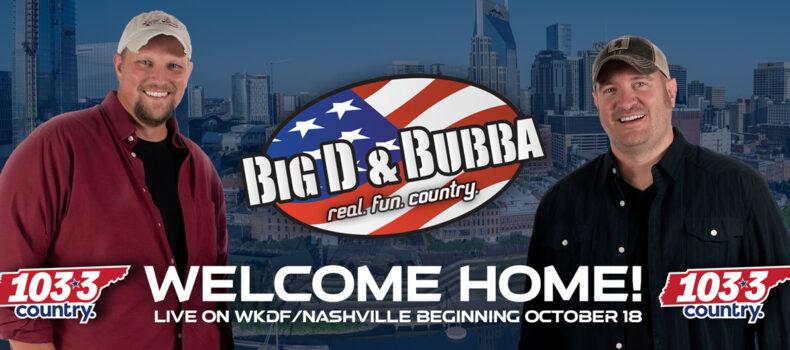 Welcome Home! Cumulus Media's 103.3 WKDF Nashville Adds Big D and Bubba Beginning Oct. 18
CUMULUS MEDIA's 103.3 Country/WKDF-FM Adds Big D & Bubba Live in Nashville's Weekday Morning Drive
NASHVILLE, TN, October 14, 2021 – CUMULUS MEDIA announces that its Nashville Country music station 103.3 Country/WKDF-FM has added the Big D & Bubba radio show to its weekday morning lineup. Big D & Bubba will debut on 103.3 Country on Monday, October 18th, and will be heard live Monday through Friday from 4:00am-10:00am. This marks an on-air homecoming for co-hosts Big D and Bubba, who have both called Nashville home for the past 18 years.
Charlie Cook, Programming Operations Manager, Cumulus Nashville, said: "We are lucky that talent this good is right here in our backyard. We've heard Big D and Bubba for years and understand how hard they'll work for WKDF. They are funny, relevant and artists love them." 
Allison Warren, Vice President/Market Manager, Cumulus Nashville, said: "We are thrilled to be working with the Big D & Bubba team. They have consistently entertained audiences and bring an unparalleled passion to every show their team hosts. This crew are born storytellers, their laughter is contagious, and they have a gift for relating to people whether artists or listeners. We are confident our clients and listeners will be surprised and delighted when they tune into the Big D & Bubba show."
  "Airing live in mornings on 103.3 Country is the culmination of a ton of hard work," said Bubba, Co-Host, Big D & Bubba. "Preparation and luck have met, and it's time to cook this chicken!"
"This is our home," said Big D, Co-Host of Big D & Bubba. "We live here. We have each raised our families in this town. Bubba's a volunteer firefighter.  We are the listener, and we're living the lifestyle. Country is what we are."
"We believe in great content, and we want to bring our unique style to the city we call home," said Patrick Thomas, President of Silverfish Media, the production company based in Nashville that produces Big D & Bubba. "We are so proud to be part of the team at 103.3 Country."
For more information or to stream 103.3 Country, visit: http://www.1033country.com.
ABOUT BIG D & BUBBA (CLICK HERE FOR MORE)
Syndicated by Compass Media Networks, Big D & Bubba is heard on over 95 U.S. radio stations and in 177 countries and every naval ship at sea via AFN. Winner of the CMA's National Broadcast Personality of the Year Award in 2015. Nominated in 2002, 2007, 2011, 2014, 2017, and 2021. Winner, Academy of Country Music National Broadcast Personalities of the Year for 2007 and 2014. Nominated 2016 and 2020. For more information, visit: https://www.bigdandbubba.com/.
 ABOUT CUMULUS MEDIA
CUMULUS MEDIA (NASDAQ: CMLS) is a leading media, advertising, and marketing services company delivering premium content to over a quarter billion people every month — wherever and whenever they want it. CUMULUS MEDIA engages listeners with high-quality local programming through 413 owned-and-operated radio stations across 86 markets; delivers nationally-syndicated sports, news, talk, and entertainment programming from iconic brands including the NFL, the NCAA, the Masters, CNN, the AP, the Academy of Country Music Awards, and many other world-class partners across nearly 7,300 affiliated stations through Westwood One, the largest audio network in America; and inspires listeners through the CUMULUS Podcast Network, its rapidly growing network of original podcasts that are smart, entertaining and thought-provoking. CUMULUS MEDIA provides advertisers with personal connections, local impact and national reach through broadcast and on-demand digital, mobile, social, and voice-activated platforms, as well as integrated digital marketing services, powerful influencers, full-service audio solutions, industry-leading research and insights, and live event experiences. CUMULUS MEDIA is the only audio media company to provide marketers with local and national advertising performance guarantees. For more information visit www.cumulusmedia.com.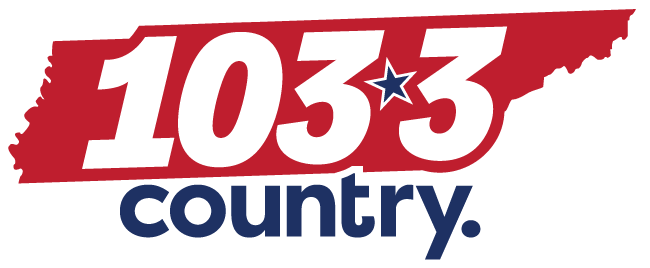 Contact: Lisa Dollinger, Dollinger Strategic Communication for CUMULUS MEDIA, 512.633.4084, lisa@dollcomm.com.
###